One to Watch: Joe Rogness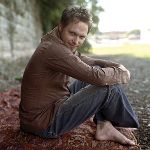 Artists usually start out not making much money and then, hopefully, work their way to making music a full-time job … which makes new artist Joe Rogness a fish out of water. The Minneapolis-based singer/songwriter left a successful 9-to-5 job for a life in music. But music isn't totally a new gig for Rogness, as he's served as a worship leader for various Twin Cities churches for more than 10 years and recently released "Right with You."
CCM:  Who is your music connecting with?
Joe:  There are so many people within the church walking around with damage. A lot of it is because of the human element; some of it is the shame they landed on; and some of it is just plain bad teaching. People are walking around who don't have a true understanding of the pure love of Jesus Christ for their lives.
CCM:  It sounds like you're speaking from experience.
Joe:  I love the church, but we need to meet people where they're at, love 'em and build trust with them. Jesus hung out with the prostitutes and the tax collectors and the sinners. It's about more than just putting up a sign that says "Easter service here." In the church we spend a lot of time talking to each other about each other. We need to get outside of that.
CCM:  As a worship leader, how do you know it's not just an emotional high when someone comes to Christ through music? 
Joe:  I almost quit leading worship for that exact reason. I felt I was serving up emotional heroin. I struggle with that. When I lead worship, it's a corporate thing, not my own material. We have to take exceptional care of that and check our hearts. God is sovereign. At the end of the day He's able to use us, in spite of ourselves.

© 2004 CCM Magazine.  All rights reserved.  Used with permission.  Click here to subscribe.