One to Watch: Lisa McClendon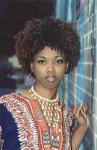 I will never forget the time I met Lisa McClendon.  She, along with her manager, came by the office to visit with our staff during her trip to Nashville to tape a show at TBN.  Suddenly, I heard Matt (our beloved editor) say, "Is that hair real?"  An awkward pause followed before Lisa brushed it off, saying, "Oh, yeah.  It's real; I get asked that all the time."  Rest assured, Matt was actually talking about Jan Crouch's hair (he wouldn't be alive today if he hadn't been), but at that moment, I knew I liked Lisa McClendon and her casual, collected attitude and confident poise.
CCM:  Who have people most compared you to musically?
LM:  Jill Scott, Erika Badu and India.Arie.  I'm not offended by it, but I generally just don't see it.
Editor:  Sorry, Lisa, but those comparisons are dead on.
CCM:  Pick three words to describe yourself.
LM:  Sincere, paranoid and giving.
Editor:  Don't worry, just a perfectionism thing, no schizophrenic tendencies.
CCM:  What's your most embarrassing moment on stage?
LM:  I was on TBN a couple of months ago when it happened. I don't wear makeup on a regular basis, but when I perform, I love to look really nice. Part of my gear is my fake eyelashes. So when I was sitting in the Green Room [at TBN], I kept thinking, "You know, I don't think these bad boys are on right. I'm just not blinking right." But I just pressed them a little and decided not to sweat it. I got home and was picking up my daughter from my stylist and she said, "Get in here, right now!" and she pointed to the TV and said, "Look." And I looked and my eyelashes were half-way off!
CCM:  On the album, one cut is your reading what sounds like a diary entry.  Was it an excerpt from your diary?
LM:  No, that was made up. I wanted to do a diary entry but didn't know how, so I just wrote about the miseducation of salvation.
Used by permission.  CCM Magazine © 2003  Click here to subscribe.