One to Watch: Miranda Stone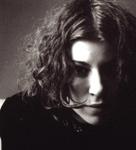 Miranda Stone, one of the kindest and most genuine people I've met, can seriously talk. Our interview, which was supposed to last 20 minutes, went on for more than an hour-and-a-half. But I enjoyed every minute. Not only is this 10-year indie veteran fascinating—from her interest in refinishing furniture, antique shopping and reading, to embroidery, do-it-yourself construction projects and painting—but she chases after her faith in Jesus with passion and conviction. She also isn't afraid to ask herself—and God, for that matter—difficult questions. I don't have the space necessary for everything we talked about, but if you want to know more of this Canadian's thoughts, check out her first full-length studio release, 7 Deadly Sins (Grassroots).
CCM:  There's a reference in your bio about your music being influenced by Anne Lamott. What's your favorite book by her?
MS: Traveling Mercies. It really allowed me to experience a different kind of conversion than most people have, and I just cheered. Lines like (laughs), "That was the year that I smoked a lot of pot," just hit me about how different that was from how I grew up. I was thinking how often I've needed to learn by experience. That's what I appreciate about Anne Lamott. She's experienced a lot of brutal stuff.
CCM: Tell me about your childhood.
MS: In my own life, we were encouraged to pursue God. [Because I grew up] in that kind of environment, I [later] had to challenge a lot of what I was taught because I wanted to know if it was going to stick.  Often, I really gripe and think that doubting Thomas [had the opportunity] to [see] Christ's body. Lucky for him! But I realize in a different way, God has allowed me to fumble through some things and then figure them out on my own.
CCM: How has that played out in your life?
MS: I know I'm pushing the envelope on the cultural expectations of what Christianity is supposed to look like. But with the people I hang out with, there's less emphasis on things many have hangups on—drinking, smoking, swearing—to thinking about things we're really supposed to be known for, and that is genuine love and concern for our neighbor. The issue is: Why are so few people experiencing the love of Christ? I also see that a lot of Christian communities are operating in a weird double standard where they realize they won't be able to get away with certain things. I'm finding that people like you or I "feel" people out, and once we figure out that they can handle it, we are ourselves. But when we need to, we avoid using certain types of behavior or language to appease other parts of the community. Is that a good way of dealing with this problem?
For more information on Miranda Stone, check out CCMmagazine.com.

Used by permission.  CCM Magazine © 2003  Click here to subscribe.