Ones to Watch: Ana Laura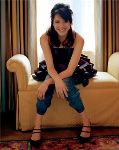 Ana Laura is a 19-year-old Texas native with a driving passion to communicate a message of hope through her music. She invites listeners to take a glimpse into what the world can look like through the prism of faith in an eclectic album of musical styles.
Her self-titled debut on Reunion Records is in stores now. Log on to analauramusic.com to learn more.
What's the biggest lesson you've learned from your parents?
Ana:  They really taught me to stick through everything – to not give up on a goal because it is difficult or getting there seems annoying. My dad says, "True maturity comes from doing what you have to do, when you have to do it, whether you want to or not."
Who are some artists that inspire you?
Ana:  I LOVE Josh Groban. He is just phenomenal. I grew up listening to Andrea Bocelli and Placido Domingo. Classical music definitely plays into the type of music I want to sing. You'll see bits and pieces of that on this album.
Tell us about your debut album. What does it sound like?
Ana:  Like I said, I love classical music. I grew up listening to a lot of Latin music. But my true love is pop. I come from the pop era of music. My producer is hard rock to the core, so you'll see all of those combined in the album – a mixture of Kelly Clarkson and Josh Groban.
What is the most important message you want people to get from your music?
Ana:  I was blessed with an awesome A&R guy who let me pick what I wanted to talk about. I actually got to sit in the room with songwriters to come up with songs about that message. I went through a lot of self-image issues when I was growing up. I definitely want to tell those struggling, whether it is with self-image or just falling in general, that Christ's beauty and perfection covers them. We are made beautiful because He is beautiful; we are made perfect because He is perfect. Without Him we are nothing. But through Him we are made grand creatures, able to worship Him with whatever gifts He has given us.


© 2006 CCM Magazine.  All rights reserved.  Used with permission.   Click here to subscribe.