Ones to Watch: Inhale/Exhale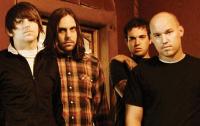 Inhale/Exhale is a hard rocking act from Canton, Ohio. The band's debut record on Solid State is structured, tight, aggressive and sensitive. Comprised of guitarist John LaRussa, vocalist Ryland Raus, drummer/vocalist Bobby Poole II and bassist Brian Pittman, Inhale/Exhale has a wonderfully team-oriented and organic method of producing and writing.
Producer Travis Wyrick (P.O.D.) was able to enhance that process when the band entered the studio to craft its debut recording, "The Lost, The Sick, The Sacred" (Solid State).
Paul: Great record title! So what's the overall inspiration behind "The Lost, The Sick, The Sacred"?
John: We as humans are lost in a lot of ways – we are lost in what we believe; we feel lost in the world and alone at times; sometimes we don't know who we are, so we try to be somebody else. We also feel sick. Our bodies start to die the moment we are born. We feel tired at times, of life in general; we feel drained with relationships, with pleasing people around us, with just the weight the world puts on us. "The sacred" is our message of how valuable life is, how we as humans are sacred to God. Life is worth living. Sometimes you just need that moment alone to change your mindset.
Paul: Tell us about how you guys approach the songwriting process.
John: Basically, we are in constant pre-production. We don't really write together. I record songs at my house, then I give them to Bobby, and he lays drums down at his place and then we send it over to Brian. Vocals we record together though.
Paul: Do you like other genres of music other than rock and metal?
John: Yeah, I like singer/songwriter stuff – Billy Joel is an amazing writer as far as pop goes. We definitely dig some country – Cash; I like Hank III. Brian rocks to some modern stuff. We like some artsy pop stuff, too.
Paul: What would be your dream support slot on a tour?
John: If Testament did a reunion, I would dig that. Of course, this is a tour that would make sense for our music. Otherwise, we would love to tour with David Hasselhoff – what a man's man.



© 2007 CCM Magazine. All rights reserved. Used with permission. Click here to subscribe.