Ones to Watch: Nevertheless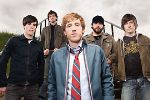 Nevertheless is a band from Chattanooga, Tenn., comprised of lead vocalist/ guitarist Josh Pearson, lead guitarist/vocalist A.J. Cheek, guitarist/vocalist Brad Jones, bassist Adam Wann and drummer Adam Rowe. Among its growing fan base is genius songwriter and front man for Relient K, Matt Thiessen, who says that Nevertheless is simply "amazing."
Nevertheless' debut album, "Live Like We're Alive" (Flicker/Sony), delivers passionate, well-written songs armed with the band's No. 1 thematic weapon: hope! An indie pop/rock band in the musical vein of Jimmy Eat World and Cartel, Nevertheless has something profound to say. Check out neverthelessmusic.com and myspace.com/ neverthelessband for more info.
Paul:  Did your parents give you grief about checking out of college to pursue your music?
Josh:  Our parents were, and are, very supportive of what we do. Personally, I know that my parents noticed that, even when I was in college, I was more interested in music and writing songs than studying. I know that all of our
parents could see how serious we were about doing this.
Paul:  Do you guys get stylistically compared to anyone?
Josh:  We have been compared to bands such as Jimmy Eat World or Mae in the past. I guess we are influenced by the music that we love.
Paul:  What do you think are the most common things that break up bands? How do you plan to avoid these?
Josh:  I think that a lot of bands break up because of selfishness. Being with four other people at all times can become pretty taxing on a person. The key, and what we, at least, attempt to do, is communicate with each other and compromise to do what is best for the group.  
Paul:  What's your current favorite Nevertheless song to play live?
Josh:  All of us are currently really enjoying playing "Lover." It is a slow song, but we always get comments after the show about it. It is just very meaningful to all of us.
Paul:  How did the band's name come about? 
Josh:  We got the name from Luke, chapter 5 in the Bible. The disciples were fishing and having no luck. Jesus told them to cast the nets on the other side of the boat. Peter said that they had been fishing all night and hadn't caught anything, but, "Nevertheless, at Your word we will let down our nets."




© 2006 CCM Magazine.  All rights reserved.  Used with permission.   Click here to subscribe.