Ones to Watch: The Fold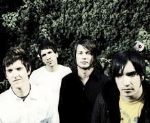 Politically Incorrect, Musically Direct
The Chicago-based band, The Fold, was created from the remnants of a number of musical outfits. With new enlightened clarity, lead vocalist and guitarist Daniel Castady helped charter a new musical and spiritual course for the now unified group of musicians, which you may have already seen on tour with Waking Ashland, Allister or Project 86.
The Fold — which also includes drummer Mark Rhoades, bassist Keith Mochel and guitarist Aaron Green — produced two independent albums in 2004 before signing to Tooth & Nail Records in 2005. The resulting CD, titled "This Too Shall Pass," hit the streets in late February. Produced by Steven Haigler (The Pixies, Brand New) and Zach Hodges (Terminal), the album features truly exciting wide and spacious rock with monster guitar riffs and smooth yet truly compelling vocals.
And the band's name? It came from John 10:16 where Jesus talks about the sheep he has from another fold. It is the band's goal and purpose to be a part of God's plan to make one complete fold. Be sure to check out thefoldmusic.com.
Paul:  On your website, you say that your label, Tooth & Nail, is in tune with what you are trying to do. So what is it you are trying to do?
Daniel:  Put out the best music we can create without having to deal with major label politics. We know the integrity of the people who work at Tooth & Nail and have an enormous amount of confidence in them as a label.
Paul:  How would you describe your new album? And what does the title mean?
Daniel:  It is a collection of 14 songs that we've worked on creating for years. The album has a lot of pop melodies mixed with in-your-face guitars and huge drums. The title, "This Too Shall Pass," is just a reference to how everything in this world will pass eventually, good or bad, whether we like it or not. It is a strong message of hope.
Paul:  How does The Fold settle band disputes?
Daniel:  Three words:  Air Soft Gun
 
Paul:  If someone asked if you were a "Christian band," how would you reply?
Daniel:  We are all Christians in a band, but we don't consider The Fold a "Christian band." Our message through music will be the same regardless.


© 2006 CCM Magazine.  All rights reserved.  Used with permission.   Click here to subscribe.