Papa San Stands Apart With "Real and Personal"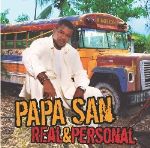 Artist:  Papa San
Title:  "Real and Personal"
Label:  Gospo Centric Records
When Jesus came down to earth, He took on a body of flesh and walked among men and women. The obvious reason behind these actions was that of redemption and deliverance in a method that we can't possibly understand, but there was more to it than that.

By living as we do, experiencing the same temptations we experience daily, breathing, and feeling pain, Jesus drove home the fact that He is real - that God is real - and that we can relate to Him on a personal level. Just as Adam and Eve walked with God and knew His voice, we once again have that same opportunity because of Christ's work on earth.
With that thought in mind, Papa San, one of Christian music's premiere reggae artists, returns with his third studio release, "Real and Personal," from Gospo Centric Records. The message portrayed on the album is one of a praise and worshipful relationship with God. Songs such as "More Life" and "Good to Me" display a grateful heart and attitude towards God as the source of all life and abundance, while "For You" serves as a direct praise and worship song. The album also expresses an excitement about the return of Jesus ("He's Coming"), a longing for the splendor of Heaven ("Oh Zion"), the importance of being like minded ("Come Out a Di Building"), the need to have God as the foundation of our lives ("Cornerstone") and a love for God's Word ("Jus' Seh Di Word").
Known for his numerous guest appearances on albums from the likes of Kirk Franklin and tobyMac, Papa San proves that his music can stand on its own as well with this album fraught with poppy, club ready tracks marked by big bass and catchy hooks. Tracks like "More Life" and "Good to Me" show off a radio-friendly appeal with a straight forward rhythm and enjoyable beats. Other tracks like "Jus' Seh Di Word" and "Come Out a Di Building" find their home in the club setting with a heavy thumping and lively sound.
Fans of reggae music with a pop backbone and appeal will feel right at home with the beats and "riddems" of Papa San. If you've only heard him as a complement to someone else's song, you may do well to pick up this album to get to know Papa San a little better. "Real and Personal" certainly holds up well against other examples of club reggae and should please fans of the style.


© 2006 CCM Magazine.  All rights reserved.  Used with permission.   Click here to subscribe.