Passion and Power Help Changing Find its Place
Glenn McCarty

Crosswalk.com Contributing Writer

2013

13 Sep

COMMENTS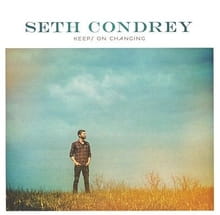 Artist: Seth Condrey
Album: Keeps on Changing
Label: North Point Music
The title of Seth Condrey's latest release is certainly appropriate from a personal standpoint. After years leading worship for the Spanish-language service at Atlanta's North Point Church, Condrey and his family are set to move to Costa Rica for a two-year stint at a sister congregation in the Central American nation. It's a life situation that's reflected thematically in Keeps on Changing, a passionate, well-produced collection of original songs which can be placed comfortably under the "modern worship" umbrella.
With Phillip LaRue (Tenth Avenue North, The Rival) at the helm, and a bevy of veteran songwriters like Ed Cash and Seth Mosley alongside, Condrey's work is exuberant and thoughtful, even if it doesn't deviate dramatically from the norm for Nashville worship projects. The lead single "Speechless" is a churning, anthemic Chris Tomlin-type number, fit for big spaces and corporate worship. "Can't Outrun Your Love" feels like a Tenth Avenue North track, a mid-tempo number backed by spacey synth. Indeed, LaRue and Condrey work to fit non-traditional instrumention into the standard four-piece-rock ensemble sound. Banjo, hammered dulcimer, and a range of electronic sounds drift by, not obtrusive enough to stand out, but woven smoothly into the sonic fabric.
The title track features a gentle, yet urgent, finger-picked acoustic verse and a lovely, melodic chorus. Other nice moments on Changing include "The Answer," with a contemplative verse and a bold, pleading chorus: "Come, Lord Jesus, come/Like the rising sun/Come let every heart/Sing of your great love." Guest musicians Tyler Burkum and Jeremy Lutito, both members of the up-and-coming Nashville rock band Leagues, don't stand out quite as much as would be hoped, but do jump to the forefront on "Love Like Fire," a gritty rocker. The album lands softly with a pair of more personal numbers, "Morning Hymn" and "Your Kingdom."
Because of Condrey's success with Spanish-language music, including the 2008 Dove Award-winning album De Corazon a Corazon, it would be have been nice to see him dip into that influence a bit more on this album. But there are enough moments of passion and power to help Keeps on Changing finds its place with modern worship fans.
*This Article First Published 9/13/2013