"Passion: How Great Is Our God" a Timely Release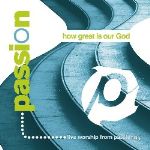 Artist:  Various
Title:  "PASSION: How Great Is Our God (Live Worship from Passion '05)"
Label:  sixsteps/Sparrow

When it comes to modern worship, the Passion movement continues to resonate with college-aged youth across the nation. Consider the evidence: sales of more than 1 million albums for the multi-album series, packed-out prayer and worship rallies and the rising popularity of Passion-bred artists such as David Crowder Band and Chris Tomlin. All this points toward the realization of founder Louie Giglio's dream for a spiritual awakening among the next generation.
Now comes the timely release of live project "How Great is Our God," the eighth offering in the fast-growing Passion discography. Featuring Matt Redman, Charlie Hall and other notables, this full-length set rides the coattails of the best-selling iTunes release "Passion '05 Live EP."
The album captures the essence of a memorable four-day gathering in Nashville earlier this year, offering a good balance of old and new selections. David Crowder Band kick-starts the disc with "There is No One Like You," an upbeat standard that sets a passionate tone for the rest of the proceedings.
From the onset, it's easy to imagine yourself as one of the 11,000-plus attendees heartily praising God. Throughout the disc, the engineers capably reflect the event's intensity without sacrificing production standards. That's no small feat, especially considering the intricacies of tunes such as Tomlin's radio hit "Indescribable" and Crowder's novel anthem "Here Is Our King."
Alas, several songs fail to captivate beyond their initial riffs, namely the all-too-generic "Majesty" and the dolefully monotonous "Mission's Flame." But sonic redemption ultimately arrives via Redman's impassionate rendition of "Nothing But the Blood." Also striking is Watermark vocalist Christy Nockels' standout performance on understated track "Glory of Your Name." Then there's folksy duo Shane & Shane's exquisite yet no-frills version of classic hymn "It Is Well," a fitting closer for a project worthy of any enthusiast's praise & worship collection.

© 2005 CCM Magazine.  All rights reserved.  Used with permission.  Click here to subscribe.