Poema Sweetens the Holidays with Once a Year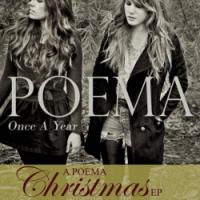 Aritst: Poema
Title: Once a Year: A Poema Christmas
Label: Tooth and Nail

You're at Starbucks. It's chilly outside and after grabbing your double tall eggnog latte you make your way to the condiment bar. You inadvertently reach for the Splenda. Nope. Maybe Equal? Not gonna cut it. Finally, you grab the brown package instead: Sugar in the Raw. It's not refined, but it's the real deal and oh so yummy.

That is what I thought of upon listening to Poema's Christmas EP, Once a Year. It is sugary sweet with vocals that wrap around one another almost flawlessly—but not so perfectly polished that it sounds phony or overproduced. With Shealeen tickling the ivories and Elle rocking her guitar these girls are more than just a singing duo, they are skilled musicians. This album is comprised of three cover songs and refreshingly, two of their own—a nice little package.

A sister duo from New Mexico, Poema grew up singing and playing music with their family. Both were surprised by the audience response at a benefit concert in 2008 and for the first time began to think about music as a career. With the encouragement of family and friends, here they are just a couple years later with some new songs and a record deal.

Once a Year is their second EP release as they ease into the music business, and it is easy to see these two have lots of potential. The first song is a delightful, bubbly cover of "Have Yourself a Merry Little Christmas." Next comes one of their originals, "Wool Coats," that sings of being together with those you love during the holidays. After that they add a cover of "Santa Will Find You" with a guest contribution by singer/producer Aaron Marsh. The fourth song is their other original concoction that begins with a beautifully haunting piano riff and lyrics that remind listeners that the true meaning of Christmas is not found in material things. Lastly, they end the project soundly with a creative rendition of "Little Drummer Boy."

This youthful pair definitely has talent with lots of room to grow and blossom in their musical ambitions (they are 18 and 20!). No matter where you are, if you want to feel cozy and warm with your cup of cocoa, turn on these tunes for a Christmas treat. These girls are sure to sweeten your holidays.


**This review first published on December 16, 2010.