Predictable Music a Downside for GB5's "Unbreakable Bond"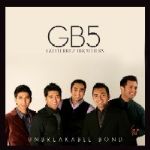 Artist:  GB5
Title:  "Unbreakable Bond"
Label:  Spring Hill Music
One of the hotly debated topics of theology is that of eternal security. Some denominations and Christians believe that it's possible to lose your salvation once it's been accepted while others argue that once you become a Christian, you're accepted into the kingdom of heaven no matter what else happens in life.
Regardless of your position on the security of your salvation, however, the Bible makes it quite clear that God will never leave us and that His love for us will never fail. The covenant that He established with us was enough to bring Jesus down from heaven to offer us a chance at redemption.
With  "Unbreakable Bond," the Gutierrez brothers (GB5) offer a reminder of this commitment that God has with us, pointing out that nothing can come between us. Most of the album has a distinct worshipful tone, marked by ballads like "Glorify Your Name," "Holy, Holy," featuring Jonathan Butler and "Just to Know You," but a few of the songs encourage listeners in other aspects of life. "If I Should Fall," for instance, lends the album its title with a message of hope for those who may feel distanced from God. "As Long as I Can Pray" tells us that we can approach God with anything through prayer, adding that the knowledge of God's care for us should strengthen our faith.
The downside of "Unbreakable Bond" is that it quickly falls in line musically with the numerous acts with a similar style who have gone before GB5. The ballads feel very much like something one would expect from an average boy band in the vein of True Vibe or early Plus One with clean harmonies and predictable compositions. Even when the group shines, as they do on "Te Alabo," their sound barely strays from the likes of The Katinas or Salvador. While technically sound and cleanly produced, the album leave much to be desired in the areas of creativity.
Certainly, the brothers of GB5 have a lot of vocal talent and musical inclination. Unfortunately, the album offers just about nothing new for listeners, whether in message or presentation. It's an album that will be enjoyable for fans of the aforementioned groups, but "Unbreakable Bond" breaks no new ground for those looking for an artistic endeavor.



© 2006 CMCentral.com.  All rights reserved.  Used with permission. 

Visit CMCentral.com now and join the single largest online community of Christian music fans on the internet.  CMCentral features  daily music news, exclusive interviews, album reviews, weekly devotions and feature articles written by some of your favorite Christian artists, and much more.  CMCentral is also the home of the most popular Forum for Christian music fans that you'll find anywhere on the Internet.  Come see what all the buzz is about!