Jeremy Camp gets Reckless
Ed Cardinal

Crosswalk.com Contributing Writer

2013

22 Feb

COMMENTS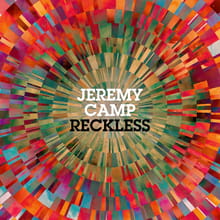 Artist: Jeremy Camp
Title: Reckless
Label: BEC Recordings

Thirty-five-year-old Jeremy Camp is one of the most dependable names in Christian music today. His career took off in 2002 with a mildly alternative edge but has since developed into one marked by solid, down-the-middle rock songs balanced with just the right amount of worship and balladry. This seventh studio effort, Reckless, is as predictably appealing as anything else he has done before—a good thing, but probably not the third party assessment to plaster across any forthcoming advertisements.

In league with the chart-topping songwriting quality of Casting Crowns and Matt Redman, Jeremy's creations are always biblical, well-focused, and ready for radio. Reckless is built around the theme of developing a willingness to obediently surrender absolutely everything to God—a way of being that much of the world would define not just as reckless, but crazy.

The stirring title track was inspired by the apostle Paul's life, and musically it bears a faint resemblance to Adele's "Set Fire to the Rain." Reunited with Andy Dodd who produced Camp's first two projects, they consciously decided to let pianos and up-front vocals make some of the impact throughout Reckless that would usually be assigned to electric guitars, and it works well.

Although it still rocks, "The Way You Love Me" has a simple praise element to the words and melody that would make it easy for even a reserved church to embrace on Sunday morning. The same goes for "We Must Remember" and its perfectly plain directive: We must remember that You have forgotten / and You don't remember our sins anymore.

An instantly catchy acoustic guitar riff opens "Free" and is another strong example of how Jeremy's passion doesn't always have to be plugged in to be powerful. With more of an electronic base, "Paradise" restates the set's central point: Don't let this life take hold of my desires / One day I will be with you in paradise / but until that day I surrender all my life.

Reckless does have songs that feel in comparison by-the-numbers ("Shine," "My God"), but they are outnumbered by more potent tracks like "Come Alive" (Watch the world held captive by dreams that will never be filled in this life) and "Reign in Me" where Camp aims to lay down all my dreams so you have my heart in full.

All told, it's easy to enjoy and be inspired by Reckless with reckless abandon.
*This Review First Published 2/22/2013