Relentless Optimism Found in Where We Come from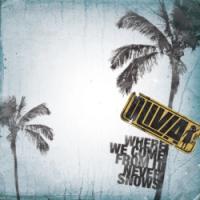 Artist: Olivia the Band
Title: Where We Come from It Never Snows
Label: Up At Nite Records
It's almost impossible not to be captured by the relentless optimism of Hawaiian pop-punkers Olivia The Band. Their heart for the Lord and their audience pours out through the driving beats and heavy guitar riffs like the late afternoon sun beating down on a North Shore beach. And it has much to do with the success of their sophomore album, titled appropriately enough, Where We Come from It Never Snows.

It's not easy to stand out in the slowly dwindling pop punk scene; the rhythms begin to sound the same, the energy lags. But OTB's strength is in the aforementioned sunny party feel. But it's a party with a purpose. The quartet believes in their ministry enough to have left their Hawaiian paradise and moved to San Diego for career convenience. The thundering opener "808" covers some of what it has cost them, although it's not a strong introduction in terms of fresh rhythms. The slammin' "Sunrise" does much better, laying out descriptive pieces of their Hawaiian legacy under a superbly poppin' bass line. "Something Greater" openly proclaims their faith in "something greater than love" over percolating guitar riffs. The softer delivery of "What I Need" finally allows you to hear the vocal charms of lead singer/bassist Reed Cromwell, as well as the band's tight youthful harmonies and some truly glimmering guitar moments.

Olivia The Band has always worn their hearts on their sleeves, apparent again in the raucous, honest "Are You Out There," crying out openly for a savior. "Letters in White Lines" is equally penetrating and expressive. The more melodic "Never Snows," from which the title is snagged, brims over with hope and optimism, a strong album theme. That hope is offered through the passionate warnings of "See You Never See You Soon," and the encouraging and insightful "Feelings." Thick melodic riffs roll through "The Search Is Over" like a North Shore break, and "Ending Circle," written in honor of spouses separated by service to our country, is notable for its tight vocal mix.

They chose to slow things way down, a wise choice, for the softly melodic closer "So Much Going On." Quiet guitars shimmer beneath Cromwell's expressive vocals, leaving listeners with a final message of encouragement. Olivia The Band has much to offer fans, and the upbeat Where We Come from It Never Snows should please the remaining punk pop lovers.
© 2008 CMCentral.com. All rights reserved. Used with permission.



Visit CMCentral.com now and join the single largest online community of Christian music fans on the internet. CMCentral features daily music news, exclusive interviews, album reviews, weekly devotions and feature articles written by some of your favorite Christian artists, and much more. CMCentral is also the home of the most popular Forum for Christian music fans that you'll find anywhere on the Internet. Come see what all the buzz is about!