Relient K: Something So Right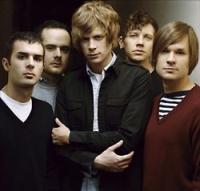 When it comes to talk of Christian artists breaking through the real and perceived barriers that supposedly exist between followers of Jesus and the mainstream marketplace of music and ideas, people will now always mention Relient K.
Is Relient K ready for this next step? The band's three Gold albums, (The Anatomy of the Tongue in Cheek, Two Lefts Don't Make A Right . . . But Three Do, MMHMM), two Gold singles ("Who I Am Hates Who I've Been," "Be My Escape"), hit videos and rave reviews in the mainstream press have assured it a place in the stratospheric heights of the underground (which translates into "almost famous" in mainstream culture). Despite Relient K's homegrown aesthetics and self-deprecating wit, the band is just about as big as any faith-fueled artist out there today.
With great success, however, come great expectations, and this spring all eyes have been on Relient K as it released the fifth full-length album in its busy seven year history. A super-star producer, one of the biggest record companies in the world and a lot more experience has caused anticipation to rise considerably. But when CCM hung out with vocalist/pianist/guitarist Matt Thiessen, lead guitarist Matt Hoopes and new bassist John Warne on their bus just earlier this year, one thing was perfectly clear: these guys weren't worried at all.
"You can kinda smell it," Thiessen says about when Relient K knew it was time to start working on a new record. Though certainly typical for most bands, the two years between the release of MMHMM and the new record is a veritable eternity for a group that has released five albums and three EPs during its fairly short career. Hoopes attributes the vast 24-month LP silence (They did release an EP during that time.) to the fact that the band joined the Capitol roster after the last record was completed. "We got signed to Capitol right as MMHMM was coming out," he explains, "so it took awhile for them to do videos and to push us to radio." In addition to Relient K's standard headlining club and theater tours, the band joined the "Warped Tour" and hit the road with mainstream bands such as Good Charlotte and Simple Plan.
The Complex Infrastructure Known as Relient K
When all the activity subsided, Relient K started writing for the next project. But personnel and geographical changes tweaked the process right out of the gate. During the recording of MMHMM, long-time bassist Brian Pittman decided it was time to do other things. He joined the eclectic post hardcore/metal band Inhale Exhale. "We still hang out," Thiessen assures. "We're still good buddies—it was just that he wanted to do something else." The band replaced Pittman with John Warne, the charismatic front man for indie faves Ace Troubleshooter. "He'd never played bass in a band before, so that was kind of adventurous," Thiessen admits. But the changes didn't stop there. Shortly thereafter, Relient K decided to add an extra guitarist/multi-instrumentalist to the line-up. Jonathan Schneck, former touring guitarist for Audio Adrenaline, brought a wide variety of talents including guitar, banjo, bells and vocals to the mix in time to record the late 2005 Apathetic EP.
Now as a five-piece band for the first time, everything from songwriting to live shows has changed. "I wanted to be free to play more piano during the show," Thiessen explains of the reason they added Schneck. "It also changes the way you write when you know you can have two guitar parts going and play piano and sing." The result was apparent on the band's last several tours as Thiessen brought a piano on stage and showed off his chops on the ivories. But once they hit the studio, the added nuance and ambience became all the more apparent. Though still true to their roots, the instrumental depth has been compounded with the addition of Schneck and the re-purposing of Thiessen, as well as the involvement of legendary modern rock producer Howard Benson (Hoobastank, Motorhead, My Chemical Romance).

The producer change came after a career-long exclusive relationship with fellow Ohio-native Mark Townsend. "It wasn't like we were saying Mark wasn't good enough anymore or anything like that," Thiessen explains. "We just wanted to use someone else so we weren't using the same person for our whole career." The band members were fans of Benson's work on several projects, including The All American Rejects' Move Along record and the noticeable growth he spurred out of Less Than Jake on its Hello Rockview LP. "I was really excited to work with him," Thiessen says. "Everybody that has heard the record so far has said that, sonically, it's a step in the right direction. The guitars sound better; the drums sound better; the vocals sound better. The fact that we spent a lot less time making it, and it sounds better, is cool. And I think that Howard brought all that to the table."
Hoopes appreciated Howard's precise approach to production. "He's always thinking about the mathematics of the song," he says, "the melodies and the arrangements and just how everything fits together." They were all fans of Benson's regular engineer Mike Plotnikoff as well. "He's worked on a lot of big records," adds Hoopes, "from Metallica to Bon Jovi's Slippery When Wet." It was more than just nostalgia and brushes with greatness that wowed the band though. Benson's team of engineers and techs, along with his staggering collection of vintage amps and guitars was mind blowing. "They had a full-on guitar tech there the whole time," Hoopes raves, "who was there twisting all the amp knobs and setting up all the guitars right before you played them. Every time we've done a record on our own, the entire time, we're sitting there tuning, tuning, tuning. It drives you crazy, and it takes forever." But with Benson's team, it was different. "There was no way the record could have gotten done that fast without that team there." Warne, a veteran of do-it-yourself indie rock, enjoyed the pro treatment as well. "It was really cool to be around people who were so proficient at their jobs," he admits. "It made you want to be a better musician and made you interested in all the different aspects of the recording process."
Come Right Out and Say It
Long before the band flew to Los Angeles to record, however, Matt Thiessen was writing songs at his home in Ohio and e-mailing demos to the others who, by then, lived all across the country. Stories abound of major labels destroying good bands by hen-pecking them over song selection in an effort to get as many sound-alike radio hits on the disc as possible. But for Relient K, the experience was totally smooth. "When it came time to start writing, I was just sitting at home in Ohio, and nobody really said anything, which I think is cool," Thiessen recalls. "It's our fifth record, so I feel like we've figured out what Relient K is and how to make it happen." As far as pressure to write certain kinds of songs, or to avoid certain subjects, Thiessen says it was never an issue at all. "When we were making our third record we had major label interest," he adds. "So if we were going to start writing differently for major labels, we would have started doing it back then, and it's never been a factor. We've never written for an audience. I don't know if this sounds selfish or stupid, but we've always written for ourselves; just writing songs that we're stoked on and that we can get behind. Obviously, you want it to appeal to people but, at the same time, you don't want to cater to people for the sake of catering to people."
Hoopes agrees. "I think overall it was a pretty good experience." And the transition from Gotee to Capitol? "It's really been smooth," says Thiessen. "And we do really like the fact that we get to work with Gotee still. They gave us our start. They're responsible for us having careers, and it has always been a very family-oriented situation." Gotee continues to distribute Relient K's music into the Christian market via EMI Christian Music Group.
Once the songs had been circulated and whittled down, the band joined up in Nashville for their first round of pre-production, recording slightly less rough demos than the ones Thiessen had made on his computer. "The songwriting process on this one was a little bit different for us," Thiessen explains, "because we have the new line-up." The band, living in various parts of Ohio, Tennessee and Colorado then went to Los Angeles to further tweak the songs and prepare to record them. Once underway, the entire L.A. session lasted only three and a half weeks.
The One You're Waiting For
Production, technology and geography aside, the heart of any great record is the music itself—the songs. And some noticeable changes emerged in the writing and performing of this latest batch of tunes. While every bit as catchy, melodic and punchy as anything in their catalog, a new level of maturity and artistic sophistication is obvious throughout the disc. From the densely packed Beach Boys' style vocal harmonies, to a musical palette that is far more diverse than they have ever attempted, Five Score and Seven Years Ago marks major improvements in just about every way a band can improve. Switchfoot front man Jon Foreman, a mentor of sorts to Thiessen, sees the new collection as a great example of Thiessen's deft touch as a writer. "I am always struck by how clever Matt is," Foreman tells CCM. "This record has hidden gems throughout."
The opening track, "Plead the Fifth," offers an odd conspiracy theory regarding the assassination of Abraham Lincoln and a body double, set to a strange Lion King meets barbershop quartet mini-song before launching headfirst into the first "real" song. But it's the lead single, "Must Have Done Something Right," that is so upbeat, sunny and happy, that the band is a little nervous about it being the first thing people hear from the album. Tracks on the disc range from high-energy power-pop to textured alternative rock and even some convincing and thoughtful ballads. And as the stylistic boundaries broaden, the lyrical resonance plunges far deeper than anything Thiessen has penned in the past.
Then Jesus Showed Up
Consider the album's closer, "Death Bed." It's certainly one of the most fully realized explorations of the gospel ever set to alternative music. In it, Thiessen creates an unnamed fictional everyman who is in his final moments on earth, lying in his literal deathbed and reflecting on his sad life and beautiful salvation. In the tradition of classic theatrical rock epics such as "A Day in the Life," "Pet Sounds" and "Bohemian Rhapsody," it takes the listener on a musical and lyrical journey without a trace of irony or self-consciousness. The use of piano, strings, banjo and other atypical components add a neo-classical element that would be more at home on a record by Sufjan Stevens than any previous Relient K sets. A beautiful instrumental climax represents the character's ascent to heaven, and a stunning coda sung achingly by guest vocalist Jon Foreman wraps the whole thing up with a bang.
"When Matt asked me if I wanted to sing on a tune," Foreman explains, "I told him that I would be honored to be involved. I enjoy singing notes I wouldn't write that approach subjects that I don't write about—it's like a vacation, or a trip overseas. If I were to hire a voice to play the part of God, I would shoot for a voice like Johnny Cash or maybe Lou Reed. So I tried to dive into it and make even the high notes feel authentic and strong." That he did. Foreman's falsetto evokes feelings of a gracious and gentle God ushering the weary and broken protagonist into his rest.
How such a boldly and obviously "Christian" song would go over on a record intended for mainstream appeal was not really a concern for the band. The key for them was integrity. Thiessen explains, "I've always said that putting Jesus' name in a song is a really difficult thing to do because it's really easy for it to come across as cheesy." Some fans on the band's message boards have misunderstood this statement, mistaking it for shame or fear of being bold spiritually. Not so, says Thiessen. The band makes no apologies for the Christian influence on its songs. "I still think that it's really hard to say 'Jesus' in a song and have people respect you for it, especially in pop rock music. 'Jesus' is a name to be revered and, if you treat it lightly, it's borderline blasphemy! I've put 'Jesus' in the wrong spots sometimes."
Foreman appreciates Thiessen's approach and sees a unique ability in him as a songwriter. "Matt's a fighter," Foreman says. "The inner fight is something that he sings about with honesty and conviction."
Repercussions from the mainstream side of things are not expected, and if they come, well . . . "If you know us all personally you'd hear us say that we don't really care if this record sells. We don't care if we're on MTV. We don't care if we have Platinum success or anything like that, and you'd know that it's not us trying to be humble—it's just legitimately what we think. We don't really care! If this record tanks because I put 'Jesus' in a song, so be it. That's a sad thing for society." Capitol Records' senior director of marketing Tom Osborn believes the band's strong reputation as good guys and hard workers, combined with the internal sense they have of their audience will protect them from the remaining "sects" of industry folks who still shun believers; or as Osborn puts it, "people who over-think it and are, in general, usually too 'hip' for the room." Osborn adds that Capitol is overjoyed to have the chance to launch Relient K into the mainstream. "They are a great band as a whole," he offers. "They've done an incredible job [on this record.] This is why you do this deal. We are kicking ourselves with happiness!"
2007 A.D.D.
The new level of maturity in Relient K's music is no accident, but neither is it a total buzz-kill. Humor still abounds; it's just a bit more sophisticated and tasteful. Big ideas, interesting musical experiments and grand visions occupy some of the space previously given over to frivolity and jr. high jokes. "I think what we're going to do is make albums that as 26-year-olds we can play even for our 'cool' friends. But we're still having a lot of immature tongue-in-cheek sort of fun through other avenues. We still have a sense of humor, and we know we have a lot of fans that enjoy that aspect of our band. We want to provide that, but I think, at the same time, I don't want to have a record that I'm really proud of and then, all of a sudden, throw some cheeky something in there that isn't appropriate."
And as for the verbose album title, it supposedly has nothing to do with the year 1900; nothing to do with the fact that in that year Lincoln's son, Robert Todd Lincoln, decided to exhume his father's body and re-bury it in a massive concrete vault to protect it from thieves. No, according to Thiessen, it's a simple summary of their career. "Five members of the band; the fifth record, and it's been seven years since we put out our first album. So 'Five Score' means basically if you're scoring how many records we have, you've scored five."
Whatever.


© 2007 CCM Magazine. All rights reserved. Used with permission. Click here to subscribe.