Renowned Guitarist's Latest Collection Enchanting, Endearing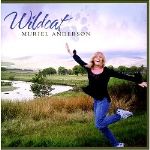 Artist:  Muriel Anderson
Title:  "Wildcat"
Label:  CGD Music
There are many excuses for not accomplishing much in life. What may seem like a simple case of laziness could be the result of a complicated set of circumstances that has affected one's outlook on life. It may be a fear of some sort – fear of failure, fear of success, etc. – that prevents activity from taking place or it may become other sort of handicap.

Or it may actually be a simple case of laziness. One common excuse, though, is the acknowledgement that nothing lasts forever. For example, why make the bed if it's only going to get messed up again at night? This type of thinking can debilitate a person throughout his or her life if it is allowed to become a prevailing philosophy.
Muriel Anderson, a renowned guitarist and National Fingerpicking Guitar Champion, returns with another collection of twelve original songs - instrumental and vocal. "Wildcat" finds Anderson reflecting on her years of experience as a guitarist, composer and songwriter as she shares some of her thoughts from her life on the road. "Castles in the Sand" describes the motivation behind her own career and offers encouragement for others to follow their dreams as well, noting that it's worth spending your time creating things of beauty.
With a style that's difficult to pinpoint, Anderson presents a varied sound that crosses over into several genres, showcasing her flexibility as an artist, vocalist, and musician. While songs such as "St. Louis Waltz" offer something of a country sound, the album bounces over to a Latin jazz sound with tracks such as "Rio De Janeiro" which is reminiscent of such artists as Vince Guaraldi and Stan Getz. Other tracks capture the sound of traditional pop vocalists such as Doris Day. Regardless of which song stands out in the listener's ear, the album as a whole proves to be a soothing and enjoyable listen full of honest and vulnerable lyrics all underscored by the extraordinary talents of Muriel Anderson.
Though her name may not be extremely familiar to mainstream music audiences, Muriel Anderson is certainly one of the greatest musicians of our time. "Wildcat" is a personal collection of songs that is enchanting and endearing from beginning to end. Listeners will be swept away by the beauty of this art. Definitely worth checking out for fans of Phil Keaggy, among other artists.
 


© 2006 CMCentral.com.  All rights reserved.  Used with permission. 

Visit CMCentral.com now and join the single largest online community of Christian music fans on the internet.  CMCentral features  daily music news, exclusive interviews, album reviews, weekly devotions and feature articles written by some of your favorite Christian artists, and much more.  CMCentral is also the home of the most popular Forum for Christian music fans that you'll find anywhere on the Internet.  Come see what all the buzz is about!