"A Deeper Faith II" - Music Review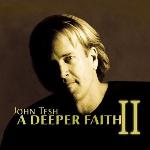 Artist:   John Tesh
Label:  Garden City Music

Once again, John Tesh selects songs in the prime of their popularity and makes them his own. On "A Deeper Faith II," a quick glance at the track list reveals variety that should peak the interest of listeners of all ages.

One surprise, in particular, is a cover of Evanescence's breakout hit "Bring Me to Life." Tesh's current version contains an element of frontwoman Amy Lee's mystical and airy sound (performed here by Windy Wagner), but this arrangement is surprisingly driven by acoustic guitar. MercyMe's monstrous mainstream success with "I Can Only Imagine" is also given a musical makeover with ethnic percussion and an all-female vocal cast. Other familiar renditions include the "City on a Hill" benchmark "God of Wonders" and the classic praise "We Fall Down," which showcases Tesh's piano chops.

Production comes across a little eerie and dark on the narrated portions of the disc, especially Tesh's reading of Romans 15:13 titled "God Who Gives You Hope." These appear in stark contrast to the otherwise hopeful, upbeat messages of the rest of the album. That aside, this CD is a great meditation soundtrack that resonates with a quiet intensity to enhance moments of personal, intimate worship.
Copyright © 2003 CCM Magazine.  All rights reserved.  Used with permission.   Click here to subscribe.