Full-Length Disc as Good as "Reset" Shouldn't Be Far Behind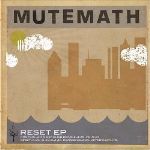 Artist:  MuteMath
Title:  "Reset EP"
Label:  Teleprompt

MuteMath is the brainchild of ex-Earthsuit members Paul Meany (vocals, bass, piano) and Darren King (drums, programming). As the story goes, a demo of their post-Earthsuit songwriting landed in the hands of producer Tedd T., who just happened to be starting a new label imprint under Warner Bros. Despite some misgivings about returning to a major-label deal, the group signed; and the "Reset EP" is the result.
With the addition of Greg Hill on guitar, MuteMath's EP is nothing if not eclectic. In the space of half an hour, we're treated to the U2-ish rock of "Control," the lively reggae burst of "Peculiar People" and the dreamy Duran Duran-like ballad "OK." Driving most of the songs is Meany's Fender Rhodes piano, which gets enough electronic tweaking to have multiple personalities and King's tasty yet powerful drumming.
Just when things seem to be falling on the conventional side, the band uncorks the instrumental "Reset," which has overtones of Radiohead meeting Calico Sunset with a live drummer on the way to a Joy Electric concert. The EP features two more fairly conventional pop-rock songs before a brief instrumental ushers it to a close.
There's plenty here to enjoy, particularly Meany's melodies and strong voice. And with more strong songs apparently waiting in the wings (check out the video for "Chaos" on the band's Web site), a full-length album as good or better
than this EP shouldn't be far behind.

© 2005 CCM Magazine.  All rights reserved.  Used with permission.  Click here to subscribe.