Closer Reveals a New Chapter for Shawn McDonald
Christa Banister

Crosswalk.com Contributing Writer

2011

22 Mar

COMMENTS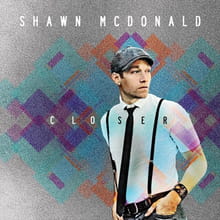 Artist: Shawn McDonald
Title: Closer
Label: Sparrow
While many artists are far more guarded about their past and how those mistakes have shaped them today, singer/songwriter Shawn McDonald is no stranger to openly sharing his struggles—whether it's from stage or in the deeply personal lyrics that have endeared him to fans for the better part of a decade now.
Following in the decidedly laid-back musical fashion of his past efforts with a few surprising new flourishes, his fourth studio album, Closer, is certainly no exception. In fact, many of the songs were written in the midst of unimaginable heartbreak. As it turns out, McDonald's marriage was falling apart as he was recording, despite his and his wife's best efforts to repair what was broken.
And whether it's the genuinely hopeful strains of the catchy title track or the plea for true community, rather than simply playing church in "Something Real," McDonald candidly acknowledges—and laments—these struggles without ever resorting to pat answers.
Truth be told, even a metaphor that's been beaten to death in Christian music in "Storms" plays out in surprisingly thoughtful fashion.
Teaming up with an all-star cast of accomplished co-writers including Brandon Heath, Ben Glover, Joy Williams and Josh Garrels, McDonald's songs vividly explore the complexities of faith. Ultimately pointing to the one who saves, redeems and gives hope to the hopeless, songs like "Don't Give Up," "Eyes Forward," "Rise" and "The Space Between Us" are revealing reflections of God's unfailing love in the midst of hardship—something everyone can relate to, whether it's divorce or something different all together.
Those familiar with McDonald's past work will also appreciate the album's progression of sound, too. Building upon the chill, Damien Rice vibe with layers upon layers of beautiful harmonies, funky beats and varied instrumental accompaniment, Closer is ultimately the best of both worlds, a place where creativity, entertainment and meaningful encouragement effortlessly co-exist.