Reuben Keeps It Real with Sex, Drugs and Self Control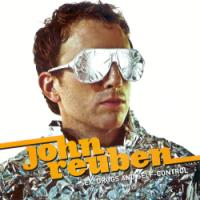 Artist: John Reuben
Title: Sex, Drugs and Self-Control
Label: Gotee Records
Keepin' on keeping it real …
Ever since John Reuben released his 2003 watershed record, Professional Rapper, the pop/rock word-player has garnered rave reviews for his distinctive combo of urban/hip-hop loops and live instrumentation and his lyrical seesaw between self-deprecating sarcasm and somber realism. And his latest record keeps up the trend.
Ruminating about a pop culture-driven society's need to fit in over a psychedelic dance-floor beat, "Radio Makes You Lonely" proposes: "A little rebellion's better than settling/Sex, drugs and self-control/Act like you belong/People to meet, places to go/All together harmonious arrangement/Everybody gets lost in the mix/Navigating through the crowd/Looking for an audience."
"Paranoid Schizophrenic Apocalyptic Whisper Kitten" contrasts the trendiness of church culture with finding religion's authentic core—Jesus: "I wasn't looking for relevant religion/The demons I know have got plenty of style/Run for the hills stay for awhile/Leave your personality behind."
"Burn It Down" traces the highs and lows of various stages of life, encouraging continued obedience to God no matter the circumstance, over a unison chorus akin to Sufjan Stevens' unmistakable indie charades.
Sex, Drugs and Self-Control doesn't really leave much to interpret. Reuben wears his heart on his sleeve, using clever rhymes to detail his minute-by-minute spiritual discoveries and padding his findings with equally engaging melodies in a melting pot of pop/rock/rap accompaniment. Reuben is as authentic as his lyrics propose, and Sex, Drugs and Self Control is a most attractive set as a result.

© 2009 CCMmagazine.com. All rights reserved. Used with permission.

**This review first published on February 9, 2010.