Rose of Bethlehem - Music Review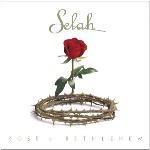 Artist:   Selah
Label:  Curb Records

With Selah, there's definitely more than meets the eye.  The trio made up of two Smith siblings (Nicol and Todd) and one pianist (Allan Hall) may appear to be very average, normal folk at first glance.  But with one listen to the vocal group steadily building a loyal following sans pomp and circumstance, you'll soon know their talent is far from the norm.  And Rose of Bethlehem—their latest and first Christmas project—testifies to that fact.
While the holiday collection truly is a hodgepodge of sorts, it probably is the left-of-center choices and arrangements that make Rose of Bethlehem that much more intriguing with each listen--beginning with Dolly Parton (yes, Dolly Parton!) as guest vocalist on "Once Upon a Christmas".  Originally written by Parton for her 1984 Christmas album of the same name with Kenny Rogers, the holiday original was re-arranged by Allan, who invited the celebrated country/bluegrass singer/songwriter to guest on the Selah 2002 version.  And the result is both tender and breathtaking.  Parton's sweet, almost child-like vocal breaks through mid-song and provides the perfect contrast to a soulful minor key.
"O Come, O Come Emmanuel" takes an interesting turn as the Christmas classic is interwoven with the national anthem of Israel in-between each verse.  With a haunting quality reminiscent of the Schindler's List soundtrack, the carol is an instant standout and becomes even more meaningful and worth pondering after reading the accompanying liner note from Todd to "be diligent in our prayer for peace in Jerusalem and in our support of Israel." 
"God predestined that His Son would die/ And He still created man/ Oh, what love is this/ That His death was in His plan/ Mystery, mystery" is the lyric Todd and his wife Angela penned for "Mystery".  As one of the other thought-provoking, minor-key tracks, "Mystery" is undoubtedly the album apex—lyrically and musically with its emotional arrangement and swelling background vocals throughout. 
Up-tempo relief comes courtesy of "Light of the Stable" , a toe-tapping romp with its tribal drumbeats and jangly guitars and then first radio single "Joy".  Whether an album misstep or a thumbs-up, gutsy inclusion, "Joy" will give you new reason to pull out that disco-era leisure suit this Christmas and "celebrate good times c'mon" while singing:  "Father in heaven/ You gave us reason to see past the pain of today/ We celebrate…."
Closing out at No. 10 is a solemn Nicol solo on the title cut, written by Lowell Alexander who proves again to be a master songwriter of moving melodies with simple, yet poignant lyrics (think Margaret Becker's "Poor in Paradise" from What Kind of Love).  It's a fitting denouement to an album that would be a perfect complement to anyone's holiday music collection.
Buy Rose of Bethelehem now at www.lifewaystores.com!