Shane & Shane Shine and Struggle on Bring Your Nothing
Christa Banister

Crosswalk.com Contributing Writer

2013

24 May

COMMENTS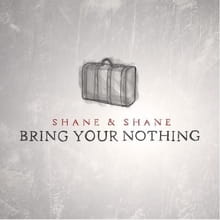 Artist: Shane & Shane
Title: Bring Your Nothing
Label: Fair Trade Services
It's part of any artist's innate nature to experiment, tinker and even divert from his/her signature style, and while it's a bit of an adjustment for the audience, it's often well worth the risk.
And considering they've always been known for their beautiful, breathtaking harmonies and stripped-down, folky sound, it's not surprising that Shane & Shane wants to switch things up its ninth studio album Bring Your Nothing, the group's second for Fair Trade Service.
Before deviating into less-traveled musical territory, the album's opening track "The One You'll Find" slowly eases the listener in. Comfortably within the Shanes' wheelhouse, the handclaps, banjos and their signature harmonizing have never sounded better. No doubt, the novice might accuse them of borrowing from their much-lauded mainstream peers Mumford & Sons, but longtime fans know Shane & Shane was playing this way long before it was "cool."
The only trouble with such a fantastic track, however, is that it sets such unrealistic expectations for what's to come. While one can't help but applaud anyone willing to change a familiar musical course, most of what remains on Bring Your Nothing is less than satisfying socially.
While the lyrics are rock solid, the choice of direction, namely the faux-Motown funk complete with Beastie Boys-esque record scratching is a strange choice of accompaniment for the title track. From the oft-putting falsetto to instrumentation that doesn't really match with the song's decidedly worshipful focus, it's a bit of a head-scratcher.
But as eclectic as things progress on the musical front, there's plenty that's praiseworthy about the song's content. In "Without Jesus," Shane & Shane take the prosperity gospel, not to mention the moral majority, to task. Emphasizing how neither of those things share anything in common with what Jesus preached, their sharp indictments that can't help but stick with you.
If only the same could be said for the music. With the exception of the insanely catchy hook found on "I Came Alive," so much of Bring Your Nothing feels disjointed and doesn't stick with you, even after repeated listens. But if it's stirring lyrics that draw you to a particular artist, Shane & Shane still have plenty of valuable things to say on Bring Your Nothing.
*This Review First Published 5/24/2013