Shawn McDonald is Brave
Ryan Duncan

2014

30 Apr

COMMENTS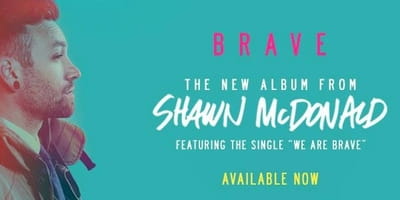 Artist: Shawn McDonald
Album: Brave
Label: Sparrow
Christian artist Shawn McDonald has battled his share of demons in the past. Drug addiction, divorce, and a rough childhood have all left their mark on his music, and his latest album is no exception.
In Brave, McDonald once again explores humanity's complicated relationship with God and with each other, but this time with a few new elements added. For starters, Brave departs from his traditional style of music in favor of something faster, rougher, and a little more elaborate. Secondly, the songs focus more on themes of "wonder" and "love" while giving "grace" the second chair.
Change is always a risky move for musicians, but Brave succeeds in providing something new for audiences without completely pulling up its roots. The album wastes no time in grabbing listener's attention by beginning with "We Are Brave" a fast, powerful song about perseverance. It's a fairly high-octane number compared to McDonald's pervious hits, but it never gets too intense and serves as a nice opener for the rest of the tracks. From here, McDonald settles back into familiar territory with "End Of The Day" a song about hope, life, and honoring God. It's a nice melody, and the chorus:
"Never stop fighting, never stop dreaming, never stop giving, never stop speaking."
Has an easy rhythm that will go great with the car windows rolled down. "I Can Imagine" and "Firefly" follow the same formula, playing out as simple, introspective songs. Both are nice, and their message about pursuing God is sure to appeal to Christian audiences. By this point Brave has proven itself to be an adequate album, but then Shawn McDonald really unveils his talent as a musician. Set back-to-back, "Learning How To Lose" and "Worlds Apart" are the crown jewels of this new release
"Learning How To Lose" is quite moving and surprisingly self-aware. It could arguably be the best song on this album, as it seamlessly blends McDonald's older techniques with newer melodies. "Worlds Apart" doesn't have the impact of its predecessor, but it's strangely whimsical, and will no doubt inspire young couples everywhere. After such beautiful songs, it's unfortunate that the album goes downhill from here. "Flower's in the snow" is an oddly psychedelic entry that would be better suited as background music to an 80's movie, while "Compass" is oddly disjointed and feels a bit like filler for the album.
The final track, "Your Love is Saving Me" is actually a pretty good song, but it feels completely out of place. Like "We Are Brave" it's a high energy ballad that would be more at home on a dance floor than behind two of the albums lesser songs. Regardless of these drawbacks, Christian listeners are sure to be thrilled at what they find. With a little bit of everything mixed into his music, Shawn McDonald has created something that is singularly Brave.
*Published 4/30/2014