Shawn McDonald's Third Disc Ripe for the Picking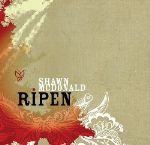 Artist: Shawn McDonald
Title: "Ripen"
Label: Sparrow
Following a critically acclaimed debut and a bold "live" second record, acoustic alternative worship wunderkind Shawn McDonald returns with "Ripen," his third and strongest release yet.
On "Ripen," McDonald stays true to his plaintive, searching lyrical style and his acoustic-driven arrangements. The operational principle for the artist and producers Christopher Stevens and Will Hunt seems to be intimacy. From the close-mike recording of his voice (so close it sounds at times like the microphone was actually inside McDonald's mouth), to the soul-bearing and confessional lyrics, the record breaks right through the barrier between music and listener.
Rich layers of cello, violin, viola and bass create a warm and rich backdrop for the acoustic guitar; and oddly effective loops and percussion programming add pop and drive to the songs. Though shades of John Mayer or David Gray will no doubt be heard by some, by incorporating the live strings (often playing more like sound effects than a string section), haunting melodies and McDonald's throaty vocals, a truly unique sound emerges.
Odd loops and imaginative string arrangements pervade the entire disc, adding wonderful color to the already strong songs. Steel guitar, accordion and hand percussion are enough to make the worship ballad "Pour Out" stand out as one of the most beautiful songs on the disc, while "Imago" offers a brightly colored Latin instrumental interlude. "Take Hold" uses cello and viola to create suspensions and resolutions that combine with perfect melodies and turn a relatively plain and predictable chorus lyric, "Take hold/ Don't give up/ You got to make the best of what you got/ Give it all your best shot," into one of the high points of the disc.
With over 15 songs and more than an hour of playing time, Shawn McDonald weaves a fabric of music that functions as devotional art on one level and just plain beautiful music on another. Dark, often melancholy, but ultimately uplifting in a very "real world" way, "Ripen" proves that McDonald is a creative force to be reckoned with.


© 2006 CCM Magazine. All rights reserved. Used with permission. Click here to subscribe.




You can watch Shawn McDonald music videos at Godtube.com.