Sheard Increasingly Exceptional on Bold Right Life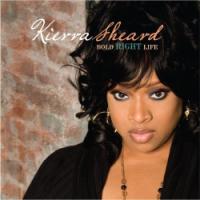 Artist: Kierra Sheard
Title: Bold Right Life
Label: EMI Gospel
Audiences have literally watched Kierra Sheard grow up in the spotlight, though now that the singer's out of her teens and approaching womanhood, she's making noticeable strides at more mature sounding music. Of course, even as a burgeoning performer, there was no ignoring the singer's bountiful range and fresh urban gospel arrangements, though these days she's stepping up all of those characteristics another notch, even dropping her "Kiki" nickname to signify the progression.
On album opener "Won't Hold Back," the performer demonstrates her soulful prowess across a lyrical desire to embrace each of life's curveballs and boldly apply them to God's plan with praise. The piano-based power ballad "Invisible" again showcases her stunning range, but the thematic direction finds the up-and-coming star shifting the focus away from personal fame, instead asking the Lord to work through her with complete transparency. The mood is entirely vertical come "Praise Him Now," an elegant string-enhanced selection that's sure to find favor in Sunday morning services.
However, Sheard still keeps the purified party in her repertoire come the unavoidably vibrant "Wave Your Banner," which falls somewhere in between Rihanna and Beyoncé. But by the time the disc simmers with the easygoing gospel pop piece "Jesus," it's evident her focus is on the eternal (as opposed to being the next diva of the day), which can only impress her increasingly loyal audience.

©2008 ChristianMusicPlanet.com. All rights reserved. Used with permission.

*This review first published on December 18, 2008.



Watch all the latest Kierra Sheard music videos at Godtube.com!