Shine Bright Baby Spiffs Up its Sound With BEC Debut
Christa Banister

Crosswalk.com Contributing Writer

2013

7 Aug

COMMENTS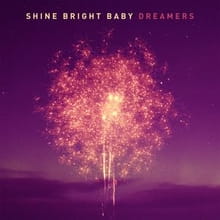 Artist: Shine Bright Baby
Title: Dreamers
Label: BEC Recordings
The journey from much-beloved independent artist to a burgeoning band with a record deal is often fraught with controversy, especially when longtime fans loved a particular sound. And no doubt, the switch from edgier pop/punk to a more streamlined pop/rock sound will be a source of debate for those who've loved the pre-BEC Recordings Shine Bright Baby. Replacing most of that rough-around-the-edges charm with a more radio-friendly bent, it wouldn't be surprising if some supporters feel a little short-changed or want to cry out "Sellouts!"
Still, while some facets about Shine Bright Baby have changed, others have remained the same. From a lyrical standpoint, Shine Bright Baby is staying true to their mission. By encouraging listeners to seek a "brighter" existence where a relationship with Jesus in the focus, they have the perfect launching-off point for the catchy strains of "Made to Glow," "The Difference" and "Lumineux."
While everything on Dreamers is produced to a pop radio level of perfection, including lead singer Emily Irene's pretty vocals that are auto-tuned to excess at times, Shine Bright Baby's Dreamers still has a couple of moments that break the mode.
In one of the album's quieter moments, the worshipful "Love Restores" is a vulnerable, fervent reminder of God's faithfulness in life's most challenging moments: "His love restores. His words are true. What this world breaks His hands make new. So do not fear, not anymore. He can heal what is broken and torn."
And lest anyone forget that Shine Bright Baby has a little rock 'n' roll menace running in their blood, "The Brave Ones," which features a guest appearance from Disciple's Kevin Young and "Overcome" are nods to the band's grungier roots. While both tracks are a welcome diversion from three-and-a-half minute pop songs, they still seem decidedly out of place on an album of shimmery tracks tailor-made for radio. As accomplished as Shine Bright Baby is, there seems to be a bit of an identity crisis.
As they move forward, one can only hope that Shine Bright Baby can dream even bigger and find a more cohesive sound that truly suits their musical sensibilities.
*This review first published 8/6/2013