Siblings Make Music on "Brothers Martin" Debut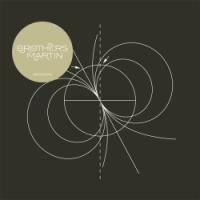 Artist: The Brothers Martin
Title: "The Brothers Martin"
Label: Tooth & Nail
When Ronnie Martin of the electro-pop synth band Joy Electric and his brother Jason of indie great Starflyer 59 said they were going to make a record together and call themselves "The Brothers Martin," fans got excited to see what they might come up with.
The brothers had started out making music together under the name Dance House Children but quickly went their separate ways. Joy Electric and Starflyer have since developed cult-like followings, so it's understandable that a project like this will make some of their fans a bit apprehensive.
It would be easy for Ronnie and Jason to bring in songs that didn't make the cut for their own albums or treat this like a side project and not put the effort into the songwriting and development. However, from the opening lines of the first track, any concerns about this quickly dissipate. With its unforgettable hooks and melodies along with quirky new wave guitars and synths, this amazingly fun and unique album succeeds on many levels, even more than either of the brothers' most recent releases. The songwriting is exceptional, with Ronnie adding some great keyboards to Jason's alternative guitar-based tunes and vice-versa. The first two songs, "Communication" (Radio needs to play this!) and "Get the Money," showcase this perfectly.
There is a stark contrast between the upbeat music and the lyrics. The album is almost conceptual, as nearly every song seems to relate to time – time that has passed you by, time for communicating with each other; it's time for a change, according to the Martin brothers.
There are some serious issues being dealt with, and they ask a lot of important questions. In the song "Communication," the lyrics state, "Define your time, as it relates to mine, what rules your life." With song titles such as "The Harsh Effects of Time," the message is clear, and it deals with tough issues that we all have to face. There is no need to panic though – the music is so original and refreshing, with swirling and staccato guitars driving through quirky keyboard lines, you will be smiling in no time.



© 2007 CCM Magazine. All rights reserved. Used with permission. Click here to subscribe.