Sixsteps' Kristian Stanfill Debuts with Attention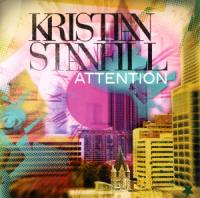 Artist: Kristian Stanfill
Title: Attention
Label: sixsteps Records
Another strong artist fully joins sixsteps family …
Sixsteps seems at least that many steps ahead of every other label out there. In short, they're good at what they do. They know their niche, they stick to it and they master the territory.
Case in point: Kristian Stanfill. Boasting label heavyweights like Matt Redman, David Crowder and Chris Tomlin, sixsteps has slowly brought along their latest signing in Stanfill by adding him to Passion worship compilations, giving him live appearances alongside the others and slowly building his confidence and fans' familiarity. It's the perfect path for artist development.
Now, Stanfill is finally ready for his own platform and full-length debut release Attention will command just that. "Alive and Running" blends label mates Charlie Hall and Chris Tomlin in one passionate (no pun intended) anthem that will inevitably serve as the opening song for Stanfill sets. "Kingdom" keeps the energy up with a focus on the identity of the church and heavy guitar riffs that nearly drown out Stanfill's vocal. Lyrically, it's one of the best tracks on Attention as he sings the reminder that "We are the kingdom of God/We are an army of love/We carry truth to the world."
Attention spends many moments calling for Christians to be active in the world around them. Songs like the aforementioned "Kingdom," "Go" and "Lead Us On" all point the way outward from the church doors and into culture. Other tracks like the familiar "Beautiful Jesus" (from Passion's God of this City) and "Faithful" balance the theme with a focus on the character and majesty of God.
By the time "You Will Always Be" ceases its hypnotic piano-driven hold, you realize Kristian Stanfill has crafted a fine first effort. Many songs here will find themselves church homes in time, and the youthful zeal and creative sound will keep things interesting for all who listen.


© 2009 CMCentral.com. All rights reserved. Used with permission.




Visit CMCentral.com now and join the single largest online community of Christian music fans on the internet. CMCentral features daily music news, exclusive interviews, album reviews, weekly devotions and feature articles written by some of your favorite Christian artists, and much more. CMCentral is also the home of the most popular Forum for Christian music fans that you'll find anywhere on the Internet. Come see what all the buzz is about!

**This review first published on May 26, 2009.

You can view the latest Kristian Stanfill music videos at Godtube.com!