Skillet Rise to the Occasion
Ed Cardinal

Crosswalk.com Contributing Writer

2013

8 Jul

COMMENTS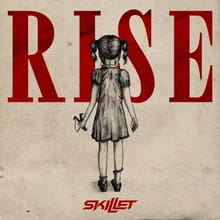 Artist: Skillet
Title: Rise
Label: Atlantic
Skillet releases Rise in the wake of an impressive statistic: the post-metal band's previous album Awake was one of only three rock sets (along with The Black Keys' El Camino and Mumford & Sons' Babel) to be certified platinum (sales of 1,000,000+) in 2012. With that remarkable momentum in its back pocket, the often-theatrical quartet has risen to the occasion here and pounded out another strong and surprisingly dynamic record.
Riseis described by Skillet front man John Cooper as a conceptual project following, "the story of a typical American teen coming into adulthood and facing the massive world problems." That's especially evident on the dramatic opening title track, which charges against the darkness of humanity with the subtlety of an eighteen-wheeler and concludes with audio clips re-enacting a school shooting, a crashing economy report, etc.

"Sick of It" bears a heavy Nine Inch Nails influence and moves the listener past apathy with a call to action that never gets lost in the funnel cloud of ten-ton guitars, kick drum calisthenics, and keyboardist Korey Cooper's electronic exclamations. "Not Gonna Die" may never have existed without Evanescence, but it reaches epic heights of originality with a church choir, a child's voice, and cool vocals from fierce drummer Jen Ledger.

New guitarist Seth Morrison sets a high standard on "Circus for a Psycho," an all-around possessed performance with a lightning fast riff of Slash proportions that young six-stringers will soon be learning and posting themselves playing on YouTube.

Always the Skillet ringmaster, it's John Cooper who takes Rise ever further by finally figuring out how to add softer elements to the band's sound without compromising his sandpapery singing or his mates' edgy instrumentation. "Good to Be Alive" is pop music with a storied past (This life can almost kill ya). "American Noise" cuts through like an alternative Tom Petty anthem with a heartland melody, accordion and dulcimer, and some U.S. cultural commentary.
All of these tracks arrive without a lot of overt Christian preaching, but later selections like the slow-burning "Fire and Fury" (again with the dulcimer!) and the jet-black bluesy "My Religion" (where "Amazing Grace" is employed in a clever songwriting technique) make it clear that Skillet has never considered compromising its message in the face of crossover success. It's exciting to see this band that began seventeen years ago and has weathered several changes is still clearly on the rise.
*This Review First Published 7/8/2013