"Soundtrack to a Revolution" - Music Review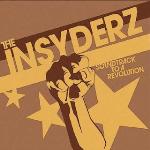 Artist:   The Insyderz
Label:   Floodgate
Sometimes you simply have to give credit where credit is due. And certainly The Insyderz deserves props for continuing to stay true to its ska roots on "Soundtrack to a Revolution," the band's first album in three years. It's also encouraging to see that three years of domestic bliss and off-stage ministry for many of the members hasn't mellowed the band out too much. Indeed, lead singer Joe Yerke describes the songs on "Soundtrack" as "fight anthems," as evidenced by the first two tracks, the title cut and the clarion "Call to Arms" that urges the listener to "prepare for war."
"Soundtrack" is full of overtly spiritual lyrics, such as "Testimony," a perky number that affirms "You are God/ the Great I Am/ You help me be a better man." In another jaunty tune, Yerke speaks of being glad that God is his "Better Half," while the album's closer, "Shame On Me," finds Yerke proclaiming "This revolution will start with me."
Yerke's voice is an acquired taste, with a gravelly, rough, aggressive character to it that, at times, even veers into the cartoonish. Thankfully, producer Royce Nunley (The Suicide Machines) keeps things moving at a hefty pace throughout. He throws elements of straight-up rock & roll into many of the songs to minimize the homogenous tendencies that ska music often employs. One complaint: Though it contains 10 songs, "Soundtrack" clocks in at just under 32 minutes, which seems awfully short after a three-year wait.
Still, absence makes the heart grow fonder, as the saying goes, which means that fans of The Insyderz are likely to greet "Soundtrack to a Revolution" with open arms.

© 2004 CCM Magazine.  All rights reserved.  Used with permission.  Click here to subscribe.