Storyside:B Moves to the Front with Alone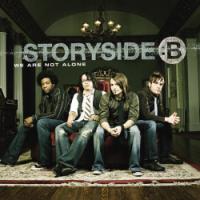 Artist: Storyside:B
Title: We Are Not Alone
Label: Gotee
The most unusual and edgy thing about St. Augustine, Florida's Storyside:B may be the band's name. Musically, its latest (We Are Not Alone) fits right in with much of what you hear on Christian pop radio these days. The production by J.R. McNeeley (MxPx, Kutless), however, is actually a cut above with crisp sounds, strings and vocal arrangements that help them move to the front of the ever-growing pack of pop/rock acts in today's scene.
The track "Angels" is one of the best and most beautiful arrangements of a song you could ever hope to hear. Vocalist Lu Rubino is the highlight of this release with a soaring voice that flows gracefully from pop to rock to a modern worship style without ever sounding forced or out of place.
Storyside:B is not going to break down any walls with this project, but it is a big step forward and I hear some serious radio hits and praiseworthy lyrics. It will be fun to see how this band develops in the future, hopefully incorporating a bit more of an adventurous and artistic aspect to their songs.





© 2007 CCM Magazine. All rights reserved. Used with permission. Click here to try a free issue.