Stryper Reunites on "7 Weeks: Live in America" Compilation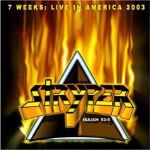 Artist:  Stryper
Label:  Fifty Three Five Records/Deep South Records
Hair band fans rejoiced last year when renowned Christian pop-metal quartet Stryper reunited for a brief 20th anniversary tour. One substantial result of that whirlwind junket is the recording "7 Weeks: Live in America," compiled last fall from performances in several major cities.
Opening track "Sing-Along Song" sets the tone for the disc, which features high-voltage material in the vein of '80s bands Def Leppard and Judas Priest. Selections are culled evenly from Stryper's previous albums and solidly represent the group's best stuff, from the richly melodic "Calling on You" to the hard-driving "Soldiers Under Command."
Some might expect Stryper to be rusty after a decade-long hiatus. If anything, front man Michael Sweet's voice has matured with age. (Witness the spine-tingling coda on "Makes Me Wanna Sing.") And there's no denying guitarist Oz Fox's enhanced fretwork, especially on the scintillating cut "More than a Man."
After Stryper sold out numerous venues during this tour, many fans renewed hope that the band would consider a long-term return. Could it be that this album offers a stopgap to keep them content until a new studio project is released? After all, "7 Weeks" certainly proves Stryper can rekindle a fire and keep it burning for more than a season.

© 2004 CCM Magazine.  All rights reserved.  Used with permission.  Click here to subscribe.