Tenth Avenue North Takes Fans Inside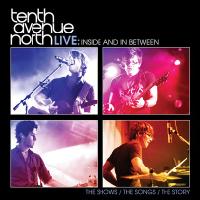 Artist: Tenth Avenue North
Title: Live: Inside and In Between
Label: Reunion Records
Live CD/DVD shows both depth and rock facet of this maturing band ...
In a short time, Tenth Avenue North has already captivated audiences with its unique brand of pop/rock, filled with signature hooks and profound lyrical content. On the band's first live CD/DVD recording, fans are treated to a closer look at the members behind the band.
Live: Inside and In Between captures two sides of the group that many fans miss unless they have seen Tenth in concert. For starters, charismatic frontman Mike Donehey is a pastoral leader of sorts. His depth and knowledge of theology is surprising when you hear his monologues from stage. The DVD portion depicts this side of Donehey well, providing short snippets of what the project dubs "song parables," revealing the young lead singer delving into deeper issues with the camera capturing him at once on the beach or on a rooftop and then switching back to Donehey talking live on stage. These short story segments provide insight into Tenth Avenue North's songs as well as Donehey's perspective and personality, allowing fans to understand where the band is coming from more clearly.
Second, the CD/DVD provides a look at the band's live show which is more up-beat than the majority of the band's polished pop found on its studio albums. From the first strains of the band's out-of-the-box hit "Love Is Here" to the closing notes of "By Your Side" (which also incorporates the powerful chorus of "Hallelujah" from its debut), the band showcases a high-energy live performance that is all at once cohesive, entertaining and innovative.
Both the DVD and CD contain the same six songs, with selections split evenly between the band's debut and The Light Meets the Dark. Donehey's vocals are quite raw and imperfect at times, but that's what gives this live recording a warm, organic quality. In fact, his voice is reminiscent of Jon Foreman, reminding listeners why the band has often been compared to Switchfoot.
In addition to live performance footage, mainly culled from the band's recent opening slot for Casting Crowns as well as its own headlining tour, the DVD contains behind-the-scenes features; stories behind the songs; all three of its official music videos and a unique, humorous look at the group's origins, as told by the band.
Check out the Tenth Avenue North music videos at Godtube.com.