Third Day, Michael W. Smith, and FFH - Jan 29 News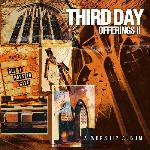 WHY REINVENT THE WORSHIP WHEEL? – If it works the first time, it just might work the second time.  And thus, Third Day's Offerings II:  All I Have to Give will release from Essential Records on March 4.  The 12-song disc contains six songs recorded live during 2002's "Come Together Tour" and then six newbies:  "Offering", "Offering Segue", "Sing a Song", "You Are So Good to Me", "May Your Wonders Never Cease", and "The Everlasting".  The band of five regrouped once again with producer Monroe Jones and hopes this collection of tunes will ignite listeners with the desire to get involved.  Bassist Tai Anderson explains:  "Through our relationships with Habitat for Humanity, World Vision, and more recently DATA, we've embrace the idea that worship is a live-out experience.  With this new album, we hope to inspire ourselves and our fans to give all they have to give—whether it is in musical worship to God, building a home for someone in need or helping resolve the AIDS crisis in Africa.  We all have something to offer."  Yes, we certainly do, Tai! 

DUBYAH'S DOING IT FOR THE KIDS – Multi-platinum, multi-GRAMMY, multi-Dove Award-winning (and multi-talented!) singer/songwriter Michael W. Smith got the word out about Compassion International--a not-for-profit ministry that helps children in poverty--this past fall while on tour.  And as a result…drum roll please…4,000 children were sponsored.  Hey thanks, Michael Dubyah!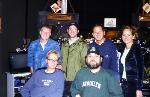 FFH FANS, PREPARE FOR TAKE-OFF – You'll want to fasten your seatbelts and turn on your electronic devices on April 15, 2003 for FFH's Ready to Fly.  Group leader Jeromy Deibler has taken over more of the controls this time around, as co-producer and songwriter.  In fact, he wrote many of the album's songs on piano, rather than guitar.  So expect a more piano-based sound and some '60s influenced horns thrown in for good measure.  FFH's Michael Boggs contributed several self-penned songs, while Brian Smith has recorded his first solo.  Listen for the album's first radio single, "You Found Me", which just released to Adult Contemporary last week.