THIS WEEK'S NEWS: Passion '05, John Tesh, KJ-52 & More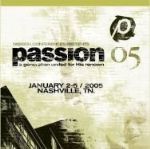 A new year.  And a new resolve to seek God in worship and prayer.  That's a promising life approach we all should venture to take in 2005, yes?

Perhaps those were the foremost thoughts concerning more than 11,000 college students who packed the Gaylord Entertainment Center (GEC) at Passion '05 in Nashville, Tenn. this past week.  The four-day collegiate gathering included the usual roundup of artist-worshippers (Chris Tomlin, Matt Redman, David Crowder Band, etc.) and speakers (Louie Giglio, John Piper, Beth Moore, etc.) who called students to discover what it means to live for God's glory on campuses and throughout the world. 
In the conference's "Go Center," a "Mobilization" area was given prime real estate in an effort to share information, increase awareness and connect students with mission opportunities available to them in the States, as well as around the globe.  "The Mobilization area is right smack in the middle of everything so you can just walk through there and see what God's heart is for all people," says Passion founder Louie Giglio.  "We're not putting missions in a back room somewhere as an ancillary elective to the Christian life.  But we're putting 'Mobilization' front and center because we believe everyone is called to God's global purpose." 
Student attendees also had an opportunity to give toward tsunami relief efforts in Sri Lanka.  Monies gathered at Passion '05 will go toward evangelical churches in this area for relief and ministry operations.

The Asian tsunami disaster also motivated others in contemporary Christian music to do something this week.  John Tesh, along with wife/actress Connie Selleca and their two children are trekking to India tomorrow on behalf of Operation Blessing.  One of the first relief groups on the scene post-tsunami, Operation Blessing is a nonprofit org providing relief and development assistant to economically disadvantaged people and victims of disaster across the globe via food, clothing and medical supplies. 
"We're not only going to provide support and counsel to the victims," shares Tesh, "but to raise awareness for Operation Blessing."  The Tesh family will spend a week in Sri Lanka and will report back with updates from their trip.  Click here for more info.

Another artist who knows a thing or two about outreach efforts is BEC Recordings/Uprok Records hip-hop artist KJ-52 (pronounced FIVE-TWO).  He's teaming up with Acquire the Fire events this winter/spring in an effort to inspire young people to commit to a passionate relationship with Christ.  While at the conferences, KJ-52 will promote Tyndale House Publishers' Metal Bible, a small, portable Bible (in the New Living Translation which is known for ease of understanding and accuracy) with a metal cover.
No doubt, the rapper will perform from his third project for BEC/Uprok, "Behind the Musik:  A Boy Named Jonah," which releases next month (February 1) and includes collaborations with Jon Micah Sumrall of Kutless, Jeremy Camp and Rebecca St. James.  KJ-52 has also penned his first book, "7 Days with KJ," a simple, seven-day devotional book that is both instructional and evangelistic in nature.
For more info on KJ-52 and his written and spoken words, click here.  For Acquire the Fire info, click here.  And for more info on Tyndale's Metal Bible, click here.  For all other inquires, try asking Jeeves at www.ask.com.

Well, it wouldn't be a first column of the new year if there wasn't something good to say about what we just left behind.  Right?  The year 2004 was indeed a step forward for Christian music, as the Gospel Music Association has evidenced in a recent statement on industry sales for the past 12 months.
Switchfoot, MercyMe and Casting Crowns were the biggies who accounted for a lot of those register cha-chings.  According to Billboard, they were the top three Christian artists for 2004 in the trade mag's year-end issue.  Switchfoot's "The Beautiful Letdown" was the No. 1-selling album on the Christian SoundScan Overall Albums chart for the year.  MercyMe sold more than 1.5 million units in album and DVD sales, including the No. 4 and No. 6 top-selling records on Christian SoundScan's Overall Albums chart for the year for "Almost There" and "Undone."  And Casting Crowns' self-titled CD is the fastest-selling debut Christian artist disc in recent years. 
So, I guess things are looking up for the music genre that is the sixth most popular, according to Nielsen SoundScan's 2004 Year-end report.  And that's over Latin, soundtracks, jazz, classical and new age.

That's all for this week.  And while you're out this weekend, why not help Christian music out in 2005 and pick up a new disc to get your year started off right?  My personal rec?  A little "Reset" from Mute Math (Word Records) ought to get you off to a rocky, jazzy, reggae-y start.