"Throne Room" - Music Review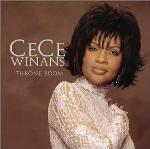 "Artist:     CeCe Winans
Label:     Wellspring/INO/Epic

CeCe Winans has built a lasting career by continually doing the unexpected. Whether it's a collaboration with rapper MC Hammer, a duet with controversial pop songstress Whitney Houston or a lushly orchestrated album of mostly hymns, Winans has continually stretched herself artistically, thereby keeping her fans pleasantly surprised and along for the ride. (Every studio project she has released as a solo artist has been certified gold or platinum — a rare thing in an age of here-today-gone-tomorrow "divas.")

With "Throne Room," Winans offers yet another departure from the predictable. "Throne Room" is a worship album, but it's not the hand-clapping, foot-stomping, choir-blasting extravaganza many might anticipate from an artist as vocally formidable as Winans. Instead, it is largely a quiet, intimate affair that builds slowly from simple, piano-based melodies to more triumphant fare, moving the listener from a place of peace to high praise.

Winans wrote or co-wrote the majority of the songs on the project, which helps give a personal touch other worship-oriented projects sometimes lack. Packed with 16 songs, the album is a showcase for Winans' unmistakable voice, albeit in a way less gymnastic than one might look for. Highlights include the title track, which was co-written with gospel music legend Andraé Crouch, and a cover of Greg Long's powerful "Mercy Said No."

While Winans has yet to deliver that jaw-droppingly great album that's comparable to her live show, for now "Throne Room" should please the CeCe faithful as she continues to work on her next pop release, scheduled to be out next spring. 


Copyright © 2003 CCM Magazine.  Used by permission.  All rights reserved.  Click  here to subscribe.