TobyMac Welcomes More Satisfying Sequel with "Diverse City"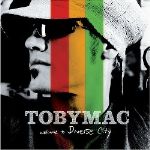 Artist:  TobyMac
Label:  ForeFront
Let's get the most newsworthy tidbit out of the way first: Yes, dc talk does reunite, at least momentarily, on a song on tobyMac's second solo album, "Welcome to Diverse City." And, yes, the track — a remix of "Atmosphere," which appears with different vocalists earlier in the album — sounds just like something left off of "Supernatural," the last album dc talk did before entering extended hiatus around the turn of the millennium. In other words: It's classic dc talk.
With that out of the way, here's the other bit of news: "Diverse City" is really, really good. Unlike his dc talk compatriots, Kevin Max and Michael Tait, Toby has remained musically close to the group's urban roots. His live shows, particularly his recent opening slot on Third Day's tour, have been vibrant, we-are-family festivals that veer from delightful rap to hard rockin' slugfests. "Diverse City" catches that same all-inclusive vibe and extends it over 16 cuts that range from ballads to in-your-face jams. In tone, it's less like the rock-rap of his first effort, "Momentum," and more like the beat-heavy remixes of those songs he released last year as "Re:Mix Momentum."
"It's been a long time coming, but I'm serving up the sequel," he announces on opener "Hey, Now," which sets the album's pace with funk guitar and horns. The song segues quickly into the tooth-rattling bass beats of "Catchafire (Whoopsi Daisy)," where Toby and guests Papa San and MOC rap about turning up the heat on the spiritually lukewarm. The festival feel continues on the title track, "Diverse City," which evokes Parliament and Sly and the Family Stone in an ode to embracing racial and ethnic diversity — a favorite theme of Toby's.
Thankfully missing from the album is the tendency "Momentum" had to build songs around melodies from classic hits. Instead, tobyMac opts to bring in a greater assortment of guests, including T-Bone, Coffee (GRITS) and Superchic[k], who help turn "Stories (Down to the Bottom)" into encouragement for those who are struggling under life's burdens. And there's the return of Toby's son Truett, a.k.a. TruDog, who sounds positively overjoyed that he's getting a Happy Meal for his efforts.
Once the disc winds down,  we're graced with that dc talk reunion. Its version of the Top 40-ish "Atmosphere" won't stop people from clamoring for a dc talk come back, but it's a nice reminder that something special happens when these three get together.

© 2004 CCM Magazine.  All rights reserved.  Used with permission.  Click here to subscribe.