TODAY'S NEWS: Jennifer Knapp, Nate Sallie & Tait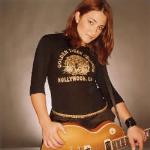 WHERE IN THE WORLD IS JEN KNAPP? Forget Carmen San Diego. We want to know what happened to our favorite female rocker. When asked when we might see a new studio project from Jennifer Knapp, a label rep said simply, "As is the case with any artist or label in this unpredictable music business, it's difficult to project what's going to happen a year or two from now." That doesn't sound promising, but to tide fans over during Jennifer Knapp's lengthy (perhaps permanent?) absence, Gotee Records is offering them the chance to have a hand in putting together her next project. The label's all-time best-selling artist will release her next album on November 4, but it seems likely that she'll still be MIA. That's where you come in. Fans are being charged with choosing which songs will appear on "A Diamond in the Rough: The Jennifer Knapp Collection." The two-disc set will feature a mix of hits and rarities, including demos, out-takes and more. Fans are also being given the opportunity to pen the album's liner notes (yet another sign Knapp is laying low). Just submit a testimonial about the way Jen's music has impacted you, and you could be immortalized. Or just stick to playing virtual A&R exec. Either way, the fun starts at www.gotee.com/jenniferknapp.

JUST SAY NO — AND YES… Nate Sallie wants kids to say no to drugs and yes to music. The "hip-pop" newcomer has been enlisted as a foot soldier in the war on drugs. He recently appeared on "Dawson McAllister Live" discussing peer pressure, and Sallie has been traveling the country speaking to teens about the dangers of drugs. The anti-drug message is in collaboration with Partnership for a Drug Free America while his talk on the importance of music in school comes courtesy of SupportMusic.com. You can catch up on everything this rising talent is up to by visiting www.natesallie.com.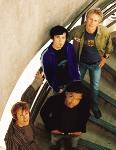 HOLDING OUT FOR A HERO… Michael Tait was already a musical hero to many for his groundbreaking work with dc Talk in the '90s, but now it's official. He recorded the track "I Am" for the new "!Hero," project and the song is already making news. In fact, it appeared on the national news recently, being picked up by Fox News' "Weekend Magazine" to highlight a tribute to American heroes. Meanwhile Tait's aptly named band, Tait, just released the first single from their upcoming sophomore project, "Lose This Life." The disc is due to drop November 4, but you can catch them this fall on the "Shoutfest" tour which kicks off September 11 in Austin, Texas.

Used by permission. © 2003 Musicforce.com