TODAY'S NEWS: Michael W. Smith, Casting Crowns & Jump5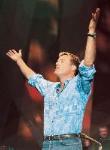 MY, HOW TIME FLIES!… Michael W. Smith is celebrating 20 years in Christian music and you can join the celebration through the release of "The Second Decade: 1993–2003," which will take you on a musical journey through the last 10 years of Smith's diverse career. In addition to 13 past hits, you also get two new songs that offer a sneak peek at the GRAMMY and Dove winner's highly anticipated 2004 pop album. The first radio single, "Signs," features an interesting collaboration with Smith teaming up with his 19-year-old son Ryan. "He's extremely artistic, but we'd never written songs together before," Smith says. "I wrote this melody and Ryan ran with it. I'm really proud of him." Also on the CD are hits like "Missing Person", "Live the Life", "This Is Your Time", "Freedom" and "Above All." On October 16, the party continues as Smith kicks off his 19-date "Celebration" tour with special guest MercyMe, in Milwaukee, Wis.

A LITTLE HELP FROM THEIR FRIENDS… Newcomers Casting Crowns know how to get some attention right out of the gate. The Atlanta-based band hooked up with Mark Miller, founder and front man of the multi-platinum country group Sawyer Brown, to be the first act on his newly formed label. Also connected to the new venture are Steven Curtis Chapman and Provident Music Group President and CEO Terry Hemmings, both longtime friends of Miller's. Chapman was so excited about this new act he co-wrote and co-produced the disc while Provident will provide distribution for the band. Look for a self-titled pop-rock debut in stores on September 30. Oh, and Miller promises they'll have a label name before then.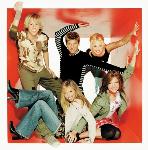 THE STREETS AREN'T SAFE… At a recent Christian music showcase highlighting upcoming projects from ZOEgirl, Jump5 and Plus One (all have new albums due later this year), the news that really stuck with us had nothing to do with music. While talking about their October 2003 release, "Accelerate," Jump5 announced that by the time the disc drops they'll all be licensed drivers! Maybe it's because we met them when they were so young, but are they really old enough to be behind the wheel? We guess that decision is up to the Tennessee Department of Motor Vehicles. Meanwhile, it seems they are old enough to head out on tour again with Aaron Carter, to record a Phil Collins song for an upcoming film, and to be the official Radio Disney spokespeople for the National Family Campaign, an effort to get families to spend time together on a weekly basis. To help, the group covered the retro classic, "We Are Family." Now there's no way they're old enough to remember that the first time around!