TODAY'S NEWS: Michael W. Smith, MercyMe, Audio A & Delirious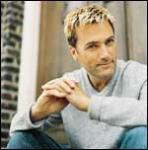 NO H2O REQUIRED … All that's needed at the upcoming "Come Thirsty: A Day of Refreshment and Worship" events is a desire to soak up all the music, teaching and preaching you can from multi-platinum-selling artist Michael W. Smith and best-selling author Max Lucado.  The duo first toured and ministered together last fall and this past spring on the über successful "Come Together and Worship Tour" which also included Third Day.  While the experience was moving and meaningful, both Smith and Lucado recognized the need for "an extended time of teaching and exaltation" that a two-hour nightly concert just couldn't deliver.
"We're inviting people to give their Lord a Saturday," explains Lucado of the upcoming events to be held on Saturday, September 11 in Wichita, Kan. and Saturday, November 20 in Oklahoma City, Okla. (the location for the third event on November 8 has not yet been announced).  "Michael will lead worship.  I'll bring encouragement from the Word.  Together, we implore people to come thirsty and drink deeply.  We want them to experience the presence of God and the joy of Christian community." 
Echoing Lucado's sentiments, Smith says that "this is going to be one big church service.  Leading God's people in worship is what I enjoy more than anything else … and it's an honor to work again with Max Lucado."  To order tickets, visit www.michaelwsmith.com or www.maxlucado.com.  All events begin at 10:00 a.m. and end at 4:00 p.m. local time.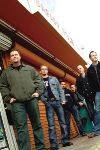 MINI MERCYME … Mini, but mighty, news blurbs from the INO Records band MercyMe: 
Current single "Here with Me," from current project "Undone," has hit the Top 15 on R&R magazine's mainstream Adult Contemporary Chart
iTunes featured MercyMe this week on the front page on Celebrity Playlist
Last week, MM embarked on a national tour with Michael W. Smith, including stops in Los Angeles and New York
Both the R&R Christian AC and INSPO charts count "Here with Me" as the No. 1 spot holder for this week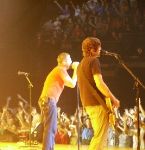 WE'RE A BAND … When you're big enough to have concert pics with thousands of cheering fans in front of you, then you know your band has made it to the big-time.  Forefront Records GRAMMY Award-winning rockers Audio Adrenaline (pictured left) recently played to nearly 7,000 screaming students at the International Youth Convention (IYC) of the Church of God in Nashville, Tenn.  Performing a list of fan favorites in the historic and world-famous Grand Ole Opry, Audio A also treated convention attendees to newer tracks from the band's current project, "Worldwide."  Latest single, "Miracle," was released to radio last week.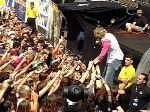 Meanwhile, back on the other side of the globe … Delirious (pictured right) did their part for rock history as they headlined at SWR3's Arena of Sound 2004 music festival.  More than 80,000 fans occupied the Schlossplatz in Stuttgard, Germany and were treated to a performance of Delirious' German No. 1 SWR3 hit radio single, "Inside Outside"  from "World Service" (EMI CMG). 

German radio has played the single more than 10,000 times since February, so it's safe to assume they really, really like it.  Second single, "Every Little Thing," is headed out faster than a Beamer on the Autobahn and will hit German radio very soon.  Stateside, "Majesty (Here I Am)," is rated by R&R as the No. 1 Christian AC New and Active single, and PDAdviser has named it on the top of its AC Advancers chart.