TODAY'S NEWS: MWS, Trevor Morgan, Fernando Ortega & More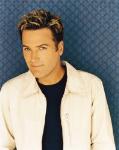 ALTERNATIVE WORSHIP … If you're attending worship services at Bedside Baptist or Pillow Presbyterian this Sunday, June 27, you might as well tune in to "Weekend Today with Lester Holt and Campbell Brown" on NBC to complete your a.m. experience.  During the broadcast, NBC correspondent Don Teague will report on the growing trend of faith-based night clubs and will spotlight Michael W. Smith's Rocketown Club in Nashville, Tenn.  Founded by Smith more than 10 years ago, the popular teen hot spot features a venue with stellar acoustics (so say visiting musicians and audiences) an art skate park, as well as the Empyrean coffee shop, which the locals say has a "Friends" type of atmosphere.  "NBC Nightly News" and MSNBC will also air the segment on Sunday, so be sure to check your local listings for airtimes. 

EEETSA BOY … EEETSA BOY … Break out the blue in honor of BHT Records artist Trevor Morgan and his wife Murray as they celebrate the birth of Maxwell Thomas this month.  Born June 15, the little tyke weighed in at 7 lbs. 13 oz. and measured up to 21 inches long. Also, in other birthing news … sort of … proud papa Trevor recently released another special bundle of joy in the form of "Wonderlight."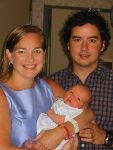 His debut disc has just been chosen by Wal-mart as the retailer's July "Christian pick," meaning it'll be featured in a special section including the new and best-selling Christian releases in over 500 Wal-mart stores across the country.  (Now if they'll just "roll back" thr price for you, then you've got yourself a deal.)  Be sure to listen for the album's second single, "Fall Down," on AC and CHR radio now.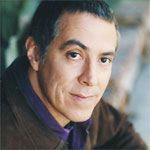 WHAT'S COMING DOWN THE PIKE … If you're always looking for the next best thing in Christian music, then your time is a comin' later this summer.  On August 10,  Fernando Ortega starts off the fun with his self-titled project on Curb Records.  And this time out of the disc-making factory, Ortega has been inspired by his seaside life in California and offers songs including "California Town", "NoondayDevil" and "Sleepless Night" (already climbing radio charts).  Ortega afficionados will be glad to know the Dove Award-winning singer/songwriter has teamed up once again with production/songwriting collaborators Andrew Schreiner and Elaine Rubenstein.

Later that month on the 24th, new Essential Records band Overflow will release their national debut, "A Better Place."  Deemed "a young Third Day" by someone who oughta know (their executive producer does happen to be Third Day front man, Mac Powell), the Pendleton, South Carolina-based band will perform on two of the summer's biggest tours – Summer Jam 2004 and Shoutfest 2004.  First single, "Come Home," releases to Christian AC, CHR and Rock formats this month, so keep your ears peeled.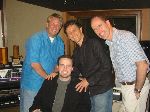 And just at the tail end of summer and beginning of fall, Phillips, Craig & Dean (pictured here in studio w/producer Nathan Nockels) will release their 10th project and also their first with new record label partner, INO Records, on September 28.  "Let the Worshippers Arise" is chock full of more worship tunes and features the return of producer Nathan Nockels (Watermark) who manned the boards on previous discs, "Let My Words Be Few" and "Let Your Glory Fall."  One special track to note is a new medley that mirrors the 1994 Song of the Year, "In Christ Alone," which was originally penned PCD member Shawn Craig.  The trio will embark on a promotional tour in September, visiting Atlanta, Chicago, Dallas, Los Angeles and Seattle.  Get the full itinerary, here.