TODAY'S NEWS: Word Label Group Sales Conference & MercyMe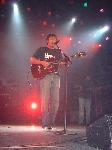 GETTING THE WORD OUT… It was sales conference time on Tuesday for the Word Label Group which means they took over Nashville's Ryman Auditorium to showcase music from upcoming projects by Word, Curb, Squint and Maverick artists. Nicole C. Mullen kicked things off while Jonathan Pierce and David Phelps let loose with their amazing voices. Rachael Lampa, Mark Schultz, Billy Ray Cyrus and 4Him all debuted some new songs, a few still works in progress, while newcomers Across the Sky, Dakona, Generation J and Antonio all made musical introductions. Salvador (lead singer Nic Gonzales pictured here), always a hit wherever they go, closed things out with a set that even inspired a conga line down front. Not sure that's what they were going for with their spicy worship sound, but anytime you can get the crowd on its feet, that's s a good thing!

DOES LETTERMAN KNOW THESE GUYS ARE AVAILABLE?… The term "house band" just doesn't do justice to the amazing group of musicians assembled at the Ryman Auditorium Tuesday for the Word Label Group sales conference. While the focus was supposed to be on the artists, this group of top-notch players assembled by guitarist Chris Rodriguez (Michael W. Smith, dc Talk) garnered its fair share of attention. Joining Chris on drums was Will Denton (dc Talk, Steven Curtis Chapman), with Dave Larring (Audio Adrenaline, Nichole Nordeman) on guitar and Mark Hill (Out of the Grey, Bob Carlisle) on bass. Jamie Kenney pitched in on keys while Jason Eskridge (Nicole C. Mullen, Knowdaverbs) and none other than Nikki Leonti served up some tasty background vocals. But by doing such a great job, they've created a new dilemma: Who gets to take them out on tour?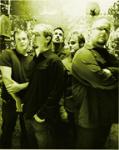 MERCYME PROVES ITS "METAL" AGAIN… We know, it's supposed to be "mettle," but in this case "metal" was more appropriate, because MercyMe has done it again. Their debut disc, "Almost There," was just certified platinum, signifying sales of more than 1 million. Meanwhile, both of MercyMe's albums are currently in Soundscan's Top 20, while a new version of "I Can Only Imagine" (sung this time by Jeff Carson) is climbing the country radio charts. Not bad for a song from an album that is nearly three years old. No doubt sales are getting a jump from all the mainstream airplay "I Can Only Imagine" is getting across the country. And the mainstream press is taking notice, too. The little band that could has recently been profiled by UPI, Fox News Channel, the Los Angeles Times.