Todd Agnew, Andrew Peterson, and Natalie Grant - Feb 19 News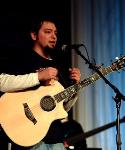 GOING 'ROUND THE LOOP – Before his Ardent Records debut, Grace Like Rain, showers later this summer, singer/songwriter/all-around-great-guy Todd Agnew is spending some quality time with collegians and single adults at "The Loop" each week.  Also known as a Tuesday night Bible study of Memphis, Tennessee's Highpoint Church, The Loop is where Todd leads worship and gives back via his God-given abilities.  "When you experience Todd's ministry, you walk away knowing there is something special there," shares Andy Savage, Highpoint Church and The Loop's "pastor of relevant environments".  It's way more than a guitar player not wearing shoes.  It what happens when God uses a man to change a generation."  So…if you can't make it to a relevant environment like The Loop and hear Todd's rock/blues/soul/gospel stylings, guess you'll just have to wait a few more months for some Grace Like Rain. 

LOVE & THUNDER AND A BIG SPRING TOUR – When the option to open for Dove Award-winning female vocalist Nichole Nordeman on a spring tour comes your way, you just might want to do that.  And that's what Andrew Peterson's doing as he opens for the lovely Ms. Nordeman on her 25-city "Woven & Spun Tour" this month through May.  In-between those dates, he'll have a couple o' solo dates of his very own to perform songs from Love & Thunder, his third project for Watershed/Essential Records.  If you're real nice, he just might even sing "Just As I Am", the debut radio single making some noise at Christian radio right now.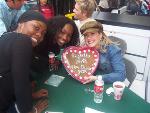 BROWN BAGGING IT – If you're Natalie Grant and you're performing at a KSBJ's "Brown Bag Concert with Natalie Grant" in Houston, do you have to bring your own samich in a brown bag?  It's thought-provoking, yes.  But what was and still is mind-blowing is the way Natalie can tear it up…vocally speaking.  And more than 1,200 guests heard what we're talking about at the KSBJ brown bag soiree as Natalie performed songs from her Curb project, A Deeper Life, in Houston's Baybrook Mall.  Afterward, friends and background vocalists Donna Lewis and Rachael Gaines gave Natalie a Texas-sized cookie to offer congrats on her performance and album release date.  Maybe that was what she had for lunch….