Unorthodox Reveals Redemptive Hip-Hop in Community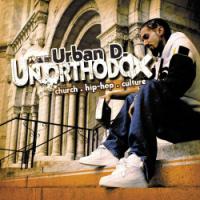 Artist: Urban D
Title: Unorthodox: When Hip-Hop Meets Church (CD/DVD)
Label: EMI Gospel/Flavor Alliance
With this double-disc set, Urban D offers up the best music of his near decade-long career as well as a DVD overview of the revolutionary hip-hop oriented Crossover Church. Even as the Tampa-based fellowship has come into its own with Urban D as pastor, D himself is coming into his own.
Musically, where Urban D's past ventures seemed a bit two-dimensional in spots, Unorthodox has some refreshing variety. With a surprisingly liquid-like flow, D brilliantly dissects materialism on the razor sharp, reggaeton-laced "Okay." And D continues to grow as a lyricist, able to address the big picture without losing the personal. On "Temptation" D somehow manages to stay encouraging while addressing a tough issue like Internet pornography. He is also able to maintain perspective in a deeply moving account of loss with "Purpose." Other highlights include the dense Mid-west soul-flavored cipher track "Church" as well as the ultra-smooth, South Beach R&B glider, "Home." D also keeps things gritty, grinding on the atmospheric, synth-heavy "Culture."
Occasional unevenness aside, Unorthodox, both CD and DVD, is a refreshing look at an emcee and a faith community who revel in true hip-hop culture and the God who created it.


© 2007 CCM Magazine. All rights reserved. Used with permission. Click here to try a free issue.