Love Found Me A Palatable Package
Glenn McCarty

Crosswalk.com Contributing Writer

2013

12 Feb

COMMENTS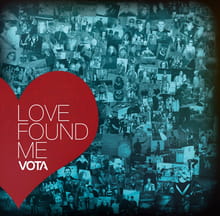 Artist: Vota
Album: Love Found Me
Label: Big Box
It's easy to see why the band Vota caught the ear of then-Newsboys frontman Peter Furler at the beginning of the band's career, when they went by the name of Casting Pearls. Their way with hooks and enticing pop instincts give Love Found Me a decidedly Newsboys feel for worship that's ready for mass consumption.
This album, the band's second under the name of Vota, mostly transitions between danceable pop and garage band-ish rock. Album opener "God of the Universe" fits into the former category, cast from an Owl City-style mold. The opening is bathed in synth and effects-heavy backing vocals, before transitioning into a thumping chorus. It's a hit. The title track has a stirring, Kutless-type anthemic chorus that showcases Bryan Olesen's vocals. Perhaps a better forum for Olesen's yearning, slightly soulful tenor is "You Alone," a lush take on Psalm 139.
Other highlights are "Show Me What I've Got," which showcases Olesen's songwriting. A father of two, he shares a common parenting dilemma – balancing family and career aspirations – and wonders, "What am I working for/and why am I always wanting more?" It's a pretty standard ballad, but as a change of pace from the edgier stuff on the album, combined with the poignant subject matter, it works surprisingly well. "Open up the Sky" is another successful dance pop number. A criticism could be that the album isn't consistently full of strong tracks. "Lift Me Up" moves into edgier vocal pop territory, but comes off a bit like a boy band castoff from a decade ago, and "Learning to Dream" kicks up the chorus, but feels underdeveloped.
The meandering styles on Love Found Me means the album suffers from a bit of an identity crisis. Is it vocal pop? Modern rock? Nonetheless, Olesen and up-and-coming producing duo Riley Friesen & Nathan Dantzler of The Hit Lab have crafted a solid collection of earnest power pop that's relevant and fresh, if a bit uneven. There's a lot here that should find a solid audience. While they're still on their way up, Vota shows it has something to say and a palatable package in which to say it.
*This Review First Published 2/12/2013