Waking Up Could Be Dillon's Career Album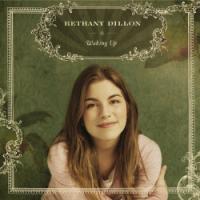 Artist: Bethany Dillon
Title: Waking Up
Label: Sparrow
From the first note of Waking Up, one is quick to realize that this could be a career album for the still young Bethany Dillon. At merely 18, Dillon releases her third album this month – a project that is not only mature lyrically but, musically, is leaps and bounds beyond her two previous efforts.
Admired for her artistic depth, past albums have seen Dillon carve out an acoustic niche. And, while 2005's Imagination slowed the tempo down, "Waking Up" finds Dillon returning to the roots of her first album, giving listeners 13 melodic reasons to fall in love with this young songstress all over again.
Lead single "The Kingdom" instantly opens with a more aggressive and pop-heavy sound, but don't be fooled by the driving, upbeat pace. At close listen, the lyrics delve into pretty serious territory as Dillon puts herself in the perspective of a woman who is unable to conceive. And though it's not unusual for Dillon to pen lyrics far beyond her years, many fans will be surprised by the album's obvious commercial appeal.
With the exception of only a few tracks, each tune seems tailored for radio. Perhaps the most airwave-friendly of them all is the catchy "When You Love Someone," co-written with Ed Cash (Chris Tomlin, Matt Wertz), who once again serves as producer along with John Alagia (Lifehouse, John Mayer) and Will Hunt (Shawn McDonald, Shane & Shane). This track and a few others ("Are You Sure," "You Could Be the One") point to romantic interests and unrequited love, revealing a glimpse of the teenager hidden inside.
Influenced by her recent missions trip to India, Dillon's honest spiritual perspective shines on "Beggar's Heart," a musical assault on the senses and a standout cut. Incorporating an array of instruments, the song eloquently captures Dillon's writing at its best as she sings, "When You build, it feels like You tear me apart/When You heal, it always leaves a scar/And even when You fill, You always leave me with a beggar's heart."
In a similar thematic vein, the closing track, "You Are on Our Side," combines lush orchestration with Dillon's profound words, appropriately concluding the best chapter of her ever-promising tenure.


© 2007 CCM Magazine. All rights reserved. Used with permission. Click here to subscribe.



Watch the latest Bethany Dillion music videos on her official Godtube.com artist page!