Watermark Offers Pure and Simple Worship on "The Purest Pl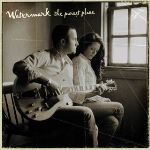 Artist:   Watermark
Label:   Rocketown
Watermark's new album, "The Purest Place," proves that the modern worship wave continues to swell with grander production and elevated artistry that doesn't sacrifice reverence and awe.
Nathan and Christy Nockels, the hitched pair behind Watermark, have already racked up several Dove nods, five No. 1 singles and more than 400,000 combined albums sold. Nevertheless, their fourth label release offers ever wider multi-generational accessibility and an endless well of worshipful inspiration.
On the more edgy side, the album track "You Come As You Are" exudes youthful exuberance that builds toward a powerful expression of grace's covering, while "Hidden" doubles as energized praise-pop with peppy beats and acoustics that anchor an undeniably catchy chorus. Capturing a more mid-tempo tone, "The Glory of Your Name" — inspired by Mel Gibson's film "The Passion of The Christ" — delivers such glorious musical theology that even the great hymn-writers of history would likely stand up and sing. Of course, "The Purest Place" leaves no mood untouched as exemplified in the piano-powered "Knees to the Earth" and the gentle acoustic and percussion-driven title track.
Nathan, who produced the disc, brings considerable experience, having produced for Point of Grace, downhere and several Passion worship projects; yet, their collective worship-leading experience stretches back over a decade to Oklahoma and Texas.
Most notably, Watermark led weekly worship at a city-wide Bible study for 2,000 young adults in Houston, which is where they likely fashioned their energetic style.
Regardless, the group's collective experience flows freely throughout "The Purest Place" with songs that will simply sweep people away.

© 2004 CCM Magazine.  All rights reserved.  Used with permission.  Click here to subscribe.