Watermark Says Goodbye With "A Grateful People"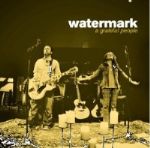 Artist:  Watermark
Title:  "A Grateful People"
Label:  Rocketown Records
For nearly a decade, Nathan and Christy Nockels have been molding and sculpting excellent works of art, sometimes messy and sometimes careful, fascinated by worship, consistently creating for God's pleasure, in a lovely chaos.
And listeners have come alongside the sojourn of truth in a synergy that possessed them to kneel by the thousands in prayerful reverence at one concert in Sherman, Texas; to adopt one album or another as the soundtrack of their lives; to pick up a guitar or put their lips to a mic on Wednesday nights in the youth basement and give a new crowd of listeners a healthy portion.
And now, Watermark's final bow comes in the form of "A Grateful People," a compilation of Christy and Nathan's favorites recorded live among friends at their home church. The going away party also includes a herd of buddies, including Chris Tomlin, Charlie Hall, Ed Cash and Point of Grace.
"A Grateful People" combines Watermark standards and Passion faves such as "Take Me There" (always an excellent showcase for Christy's buttery, reverberating voice), a seamless medley of the title track and the hymn "Bless the Lord" (featuring Tomlin) and "Arise and Be Comforted," for which Shane & Shane pop in (this song was also Shane Everett's personal anthem shortly after his salvation). Look for the somber "Knees to the Earth," which was written and performed in under an hour at the legendary OneDay Passion Conference in Texas in 2003, and an interpretive medley of the classic hymn "In the Garden" along with Lenny LeBlanc's "There Is None Like You."
As Nathan and Christy move on to full-time parenthood and new ministry, "A Grateful People" epitomizes the definition of "watermark" they encountered when they started out as worship leaders in Houston in 1997: "An impression only visible when held up to the Light."


© 2006 CCM Magazine.  All rights reserved.  Used with permission.   Click here to subscribe.