Wide-Ranging Influences Mark Inhale Exhale's "Lost"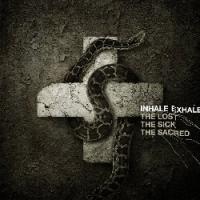 Artist: Inhale Exhale
Title: "The Lost, the Sick, the Sacred"
Label: Solid State
These Canton, Ohio, natives boldly announce their presence on the modern hard music scene with one of the strongest debut releases in years. "The Lost, the Sick, the Sacred" combines blistering guitars, strong melodic sensibilities, guttural screams and progressive arrangements in a formula that references a wide range of modern and classic influences and, yet, sounds completely original unto itself.
With veteran rock producer Travis Wyrick (Pillar, P.O.D.) at the helm and a collection of 10 solid songs, Inhale Exhale is a study in influences. From Southern rock to speed metal, arena rock to screamo, it's all in the soup. Heavy-hitting diversity is the order of the day. Rhythmic breakbeats and dynamic extremes belie some prog rock elements, while the band's attention to nuance and overall song structures hail acts such as Thrice and Dead Poetic. Screaming guitar assaults ride the third rail between classic and modern metal, with plenty of squealing pinch harmonics and lightning fast riffage as well as old-school arpeggios and modern-day plods.
Easily toggling back and forth from anthemic singing to full throttle screams, there's even a sense of melody in the most obliterated vocal shreds on the disc.
Vocalist Ryland Raus' mostly discernable vocals deliver lyrics as passionate about the hard truths of life and the ultimate answer found only in God as they are about pinning the musical needle at 11. Thematically divided between the three words of the title, "The Lost, the Sick, the Sacred" confidently picks at the scabs of a wounded culture with some actual medicine to offer.


© 2006 CCM Magazine. All rights reserved. Used with permission. Click here to subscribe.