In the Aftermath of Iraq: Soldiers Now Living for Christ
Janet Chismar

Crosswalk.com Contributor

2004

19 Mar

COMMENTS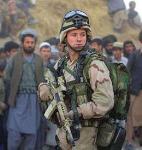 It's been a year since war broke out in Iraq, a year like no other. Countless lives were forever altered. Families lost loved ones, soldiers lost limbs, political power changed hands … and Satan lost his battle for hundreds of souls. Men and women who struggled to believe in eternity just last March now follow the Lord as the commander-in-chief of their lives.
"I baptized 49 men as new Christians before we even stepped foot in Iraq," says Lt. Carey Cash, a U.S. Navy chaplain assigned to the 1st Battalion, 5th Marine Regiment in Operation Iraqi Freedom. "We had about 160 by the war's end either baptized or renew their faith and make significant steps in their walk with Christ."
Marching headlong into a barrage of bullets and rocket-propelled grenades, Cash's unit—the most highly decorated regiment in Marine history—found itself in the middle of the battle for Baghdad last April. "We were tasked with the mission to go into the heart of the city to take one of Saddam's palaces on the Tigris River," says Cash, "and also to take a mosque because it was believed that Saddam Hussein himself was in the mosque. Those two firefights on the way to the palace and the mosque were two of the most intense of the war."
But for 40 days prior, the battalion fought a different battle – in the desert. "When we got to Kuwait, we were there for six weeks in the desert before we even crossed the border into Iraq into combat," Cash explains. "It was uncanny because we literally were there for 40 days in the wilderness."
During that 40-day stretch, the men began to feel the weight of being far from home, away from their usual fast food, Internet environment.  "We were out there with a lot of time to think," says Cash. "Granted, we were doing a lot of training, but there was a lot of time to ponder what we were about to go do."
Just that element alone – the drumbeat of war, seeing the oil wells of Iraq on the horizon, realizing they were in a dangerous place – began to flush out the most important issues in the soldiers' lives.
Cash recalls: "I heard a man once say, and I shared this when I was there, 'Danger distills the vital.' And that's exactly what I saw. It was the vital issues that mattered. It was our family and it was faith – It was 'Who is God?' and 'If in fact I am called to give my life, am I prepared to meet the Lord?'"

MORE TO COME ...